Getting started with smart lighting may seem daunting, but with the Philips Hue Smart Bridge at the helm, upgrading your home to smart lighting is easy.
The Philips Hue Smart Bridge is designed to network up to 50 (yes, fifty!) Philips Hue bulbs, adding support for voice control via Alexa, Google Assistant or Apple HomeKit. Remotely control any Philips Hue device with the Smart Bridge, no matter where you are.
In addition to light bulbs, the Smart Bridge can connect nearly any accessory in the Philips Hue line, including the Hue Tap Switch, Motion Sensor and Dimmer Switch. Not only that, but you can connect the Smart Bridge and Hue products with a SmartThings or Nest system, which means buying Philips Hue products does not lock you out of using other smart home devices. This is particularly great for beginners, who may hesitate to upgrade their home out of fear they'll be stuck with a solution that's not optimal for them.
The list of partners integrated with the Philips Hue Smart Bridge is, frankly, impressive. Supported products and services include, but are not limited to:
Amazon Alexa
Nest
Apple Homekit
Google Assistant
SmartThings
xfinity
vivint. SmartHome
Razer
Logitech
IFTTT
Perhaps the only point of contention I have with the Philips Hue Smart Bridge is that it requires a direct connection with your router via Ethernet. While your phone, tablet and supported apps connect wirelessly to the Smart Bridge, the device itself must be connected directly to your router, which places a small restriction on where it can be placed within your home. For most, this will not be an issue, but it's worth mentioning. That said, the Smart Bridge is a ZigBee mesh device, so the signal from your Smart Bridge only needs to reach one light, which will then communicate with other compatible lights and devices in your home.
So what's the big deal with smart lighting?
If you're still undecided about upgrading your home with a smart lighting system, you may not be convinced that the value proposition is correct for you. After all, there is a notable premium compared to traditional (or "non-smart"?) LED lighting solutions. Currently, basic soft white Hue bulbs are around twice the price of comparable LED bulbs without connectivity.
The difference is control and customization. When considering this upgrade, it's important to look beyond a strictly dollar-for-dollar comparison. Modern LED bulbs can last far longer than traditional incandescent bulbs. Over a longer period of time, Philips Hue bulbs still provide a much better value when compared to traditional bulbs. While they may appear more expensive in the short term, the benefits outweigh this temporary disadvantage, in my opinion.
With smart lighting systems like the Philips Hue products, you are really paying for professional lighting in your home environment. Never before has there been an affordable way to switch between bright project lighting and restaurant-style mood lighting on the fly at home. With Alexa and other voice-controlled systems, it's even easier to do so.
You use your space for all sorts of activities and in all sorts of moods. So why should you live with static lighting? The Philips Hue Smart Bridge makes it easy to change lighting as you please, without swapping bulbs or making major home alterations.
So, what's the big deal with smart lighting? Control!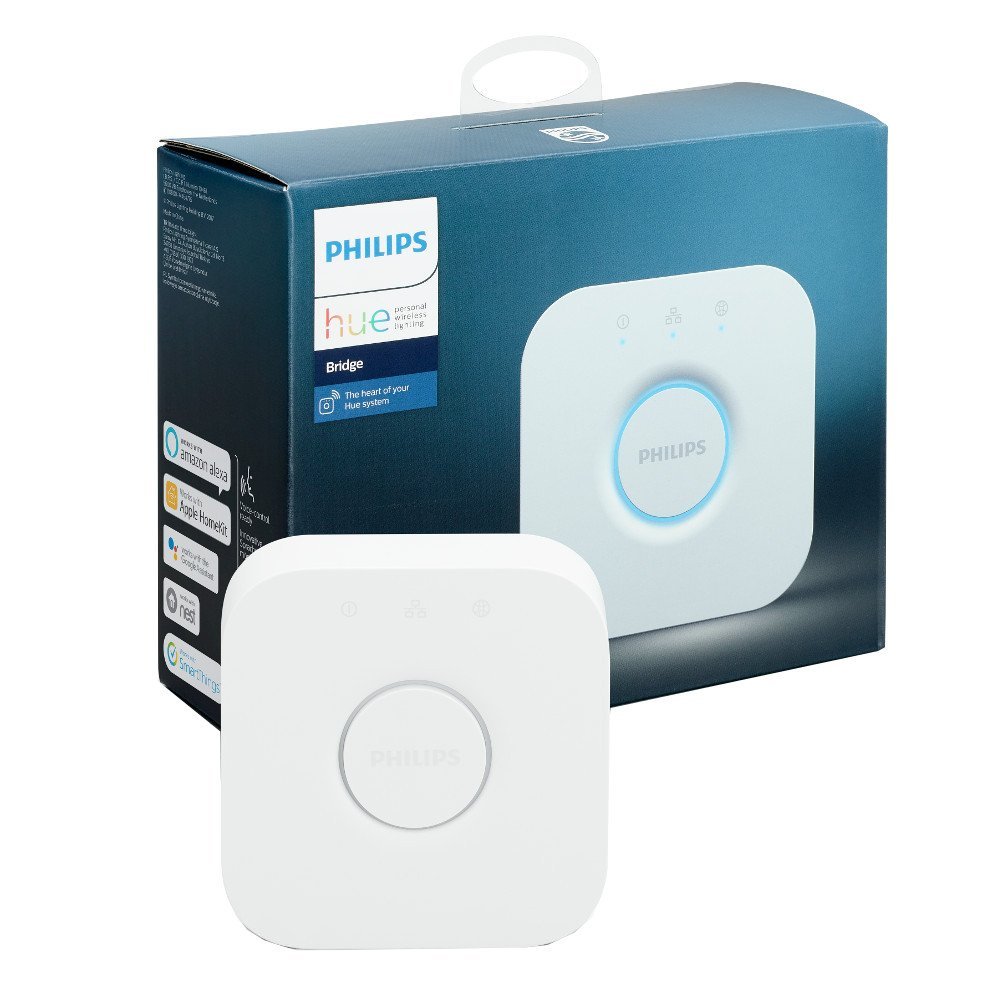 Philips Hue Smart Bridge Product Specifications
Dimensions: 1″ x 3.5″ x 3.5″
Weight: 8.4 ounces
Manufacturer: Philips Peripherals and Accessories
ASIN: B016H0QZ7I
Model Number: 458471
Warranty: Limited manufacturer warranty.
The Philips Hue Smart Bridge is a highly regarded device from one of the early pioneers in the smart home and internet-of-things devices. If you're even considering an upgrade to smart lighting, Philips Hue is the place to start. And if you decide to to upgrade bit by bit without it, the Smart Bridge is still a valid option to tie it all together later down the line. It's a win-win situation.