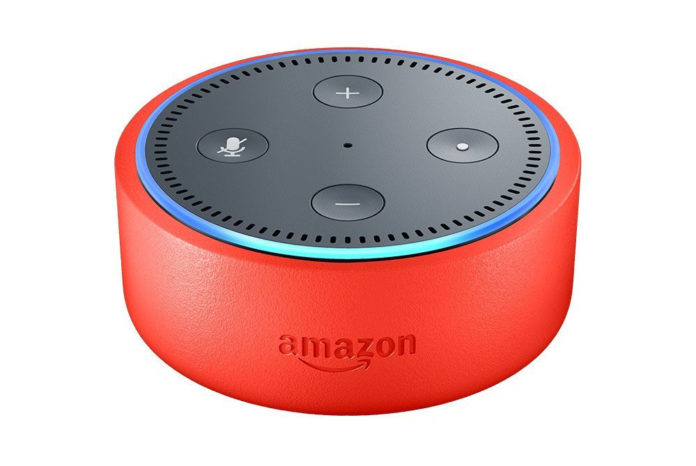 Amazon continues their popular Echo line of voice-controlled speakers, this time with a unique kid-friendly twist. The Echo Dot Kids Edition solves a common concern for many parents: How do I give my kids access to the modern gadgets they're begging me for, without giving up peace of mind?
Enter the first Echo device designed specifically for kids (and their parents, of course). Amazon boasts that the Echo Dot Kids Edition turns Alexa into a "kid-friendly DJ, comedian, and storyteller (…) all with younger ears in mind." This newest revision of the Echo Dot may come at a slightly higher price, but dollar for dollar, the Kids Edition Echo Dot packs a bevy of features that will entertain the youngins and connect your family throughout the house.
The Echo Dot Kids Edition comes in a colorful protective case, a 2-year replacement guarantee, 1 year of Amazon FreeTime Unlimited service and even a discount on the standard Echo Dot (Black). No need to worry about drops, spills or whatever else the youngsters put Alexa through! If your kids break this Echo Dot, Amazon will replace it at no charge.
Kid-Friendly Content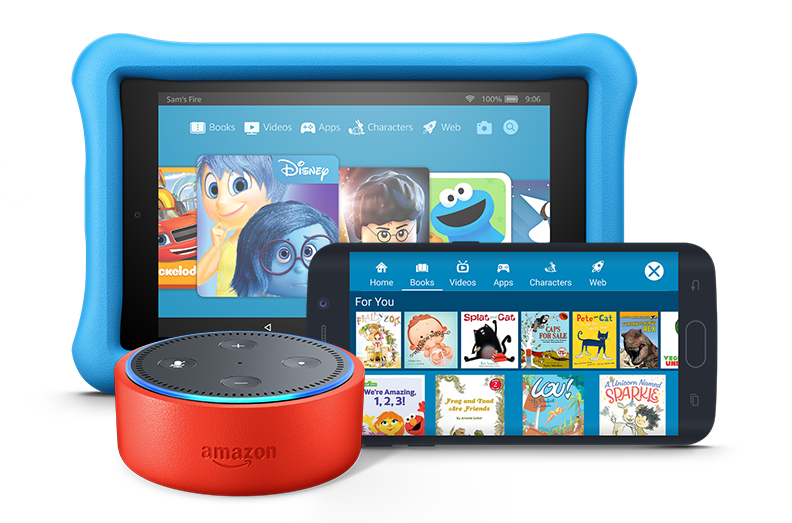 With a free year of Amazon FreeTime Unlimited ($2.99/mo. after that), your kids will get access to 300+ Audible kids books, thousands of age-appropriate songs (explicit content is automatically filtered out), premium Alexa skills and games for kids. FreeTime Unlimited allows kids to enjoy tons of content from Nickelodeon, Disney, National Geographic and more, all from an Echo Dot made just for them. You can even set special alarms featuring kids' favorite characters!
Not only does the Echo Dot Kids Edition provide hours and hours of music and other entertainment, but it does so completely ad-free. No need to worry about what's being advertised to your kids while they enjoy this powerful tech.
As a parent, you can rest at ease knowing you can control daily device time limits, review your kids' activity or pause Alexa on the Echo Dot Kids Edition. Time for dinner? Use multiple Echo Dot devices throughout the house to communicate without yelling (where was this when I was a kid?). And it's easy to manage how your kids interact with Alexa via the Amazon Parent Dashboard. And if you're wondering, voice shopping is disabled. (Phew!)
Amazon Echo Dot Kids Edition Technical Details

Size: 1.5″ x 3.5″ x 3.5″ (38 mm x 90 mm x 90 mm)
Weight: 6.7 ounces (191 g)
Wi-Fi Connectivity: Dual-band Wi-Fi support 802.11 a/b/g/n (2.4 GHz or 5 GHz) networks. Does not support connecting to ad-hock / p2p Wi-Fi networks.
Alexa App: Alexa App compatible with Fire OS, Android and iOS devices, and web browser. Subscription or other fees may apply.
Age-Appropriate Content: 1 year FreeTime Unlimited, 300+ Audible books, 1 year free Premium kids skills, 1 year ad-free radio stations and playlists.
Warranty: 2-year worry-free guarantee with free replacement if broken.
Audio Output: Built-in speaker, 3.5 mm headphone cable line-out, Bluetooth audio
The Echo Dot Kids Edition is sure to be a trendsetter for kid-friendly tech. With plenty of features designed specifically for them, your kids can finally have the same toys the devices they see all around them, without parents worrying about the content they'll be able to access. It's a win-win all around.