In 2014, Amazon released the original Fire TV, a compact set-top box that brought improved smart TV functionality millions. Shortly after, the Fire TV Stick offered many of the same features in an even smaller form factor, and at less than half the price. Today, Amazon has announced the next generation Fire TV device.
The Amazon Fire TV Cube brings full Alexa voice control to your entire living room with a completely hands-free streaming experience. With 8 built-in microphones and beamforming technology, the Fire TV Cube enables far-field voice recognition. What does all that mean? Well, Amazon says you'll be able to not only control typical streaming functionality, but also "control your TV, sound bar, cable or satellite box, receiver and more with just your voice" from anywhere in your living room.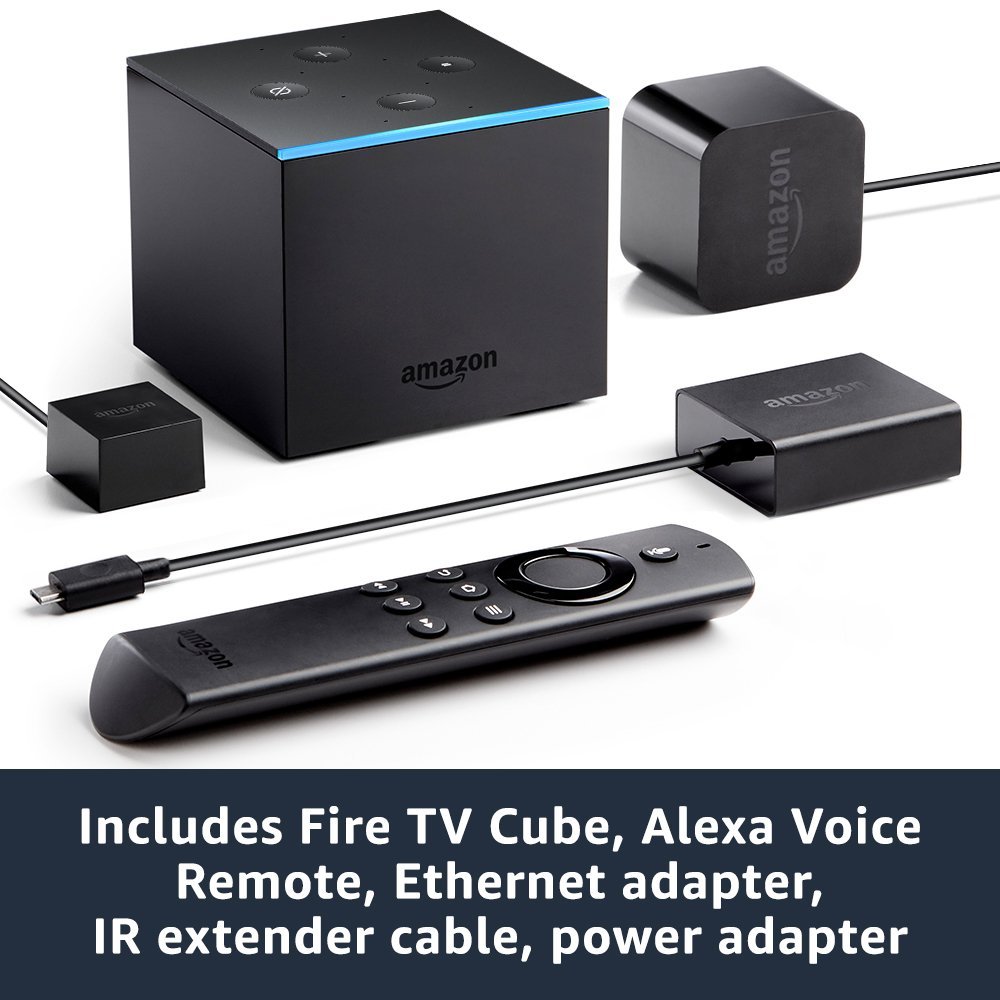 And that's not even close to covering everything the Fire TV Cube can do, believe it or not. The new device measures a mere 3.0″ x 3.4″ x 3.4″ and can output 4K Ultra HD at 60 fps with HDR and Dolby Atmos support. It can also control smart home devices like the Amazon Cloud Cam, it can control your smart lighting system, and more.
To truly take things to the next level, the Amazon Fire TV Cube has its own built-in speaker, meaning it can also function as a nearly-feature-complete Amazon Echo. While it does not currently support Alexa Calling & Messaging, Bluetooth phone connections or multi-room music, the amount this little box can do is a true step up from the original Amazon Fire TV. To top it all off, Amazon has listed the Amazon Fire TV Cube with an MSRP of $119.99—only $10 above the price of the original Amazon Fire TV over four years ago.
What's in the Box?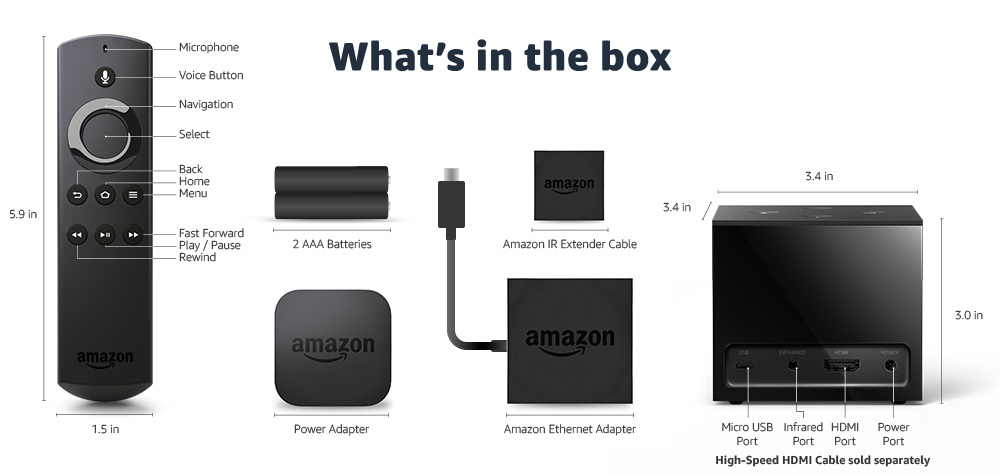 While the primary marketing focus of the Amazon Fire TV Cube is clearly on Alexa functionality and high-resolution video, that doesn't mean you're necessarily forced to give up the remote. The Amazon Fire TV Cube comes with a standard Amazon remote with built-in microphone, the box itself, an IR extender cable, ethernet adapter and power adapter.
At only 465 grams (16.4 ounces), the Fire TV Cube packs 2 GB of RAM, a Quad-core 1.5 GHz and ARTM 4xCA53 processors, a Mali450 MP3 GUP and 16 GB of internal storage. The device features a wide array of connectivity options, including 802.111a/b/g/n/ac Wi-Fi, a dual-band/dual-antenna MIMO Wi-Fi, Bluetooth via the Alexa Voice Remote, Fire TV Remote App and ethernet via the Amazon Ethernet Adapter.
The Amazon Fire TV Cube releases June 21st, 2018 and is available for preorder now. It's also available in a bundle that includes the Amazon Cloud Cam.