Are you concerned that you will not be able to use your iPhone with Google Home? Don't be. The Google Home – iPhone integration is fairly solid. However if you are looking for a completely streamlined experience with your iPhone, you may want to consider a different product. The main key to getting the most out of Google Home is to learn to adjust since you'll have to replace some of the apps you typically use. Of course, you'll still be able to set alarms, check the weather, call an Uber, and do all kinds of helpful tasks without any problems. Instead, I'll focus on how to use a few features that are a bit more tricky.
Setup
To be able to use all the features of Google Home with your Apple iPhone, you'll first need to create a free Google account if you haven't already. Secondly, you will need to download the Google Home app from the iOS store; the app will prompt you to connect the Google account you created earlier. Also, you'll want to use Bluetooth to connect and the app guides you step-by-step so setup will be easy.
Voice Commands
Similar to Siri, Google Assistant allows you to say commands, ask questions, and even have a conversation with your device. The Google Home app set-up automatically activates Google Assistant. To start Google Assistant you simply need to say "Okay, Google".
You may not want to replace Siri at first, but Google Assistant offers cutting edge technology, specifically artificial intelligence. It learns details about you and can recall information from past conversations for contextual understanding.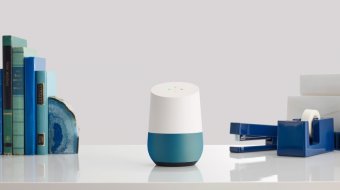 Playing Music
If you use a streaming service, such as Spotify or SoundCloud, you will be able to play music to Google Home without a problem. Simply say "Okay, Google play [the name of your favorite song]".
However, if you typically use your iPhone's music library to play music you'll have to switch to a new service. Since you already have a Google account, one great option is to connect your Google account with Google Play and upload all your music to the Google Play servers. A free account lets you upload over 20,000 songs and this has the added benefit of giving you a cloud back-up for all your music.
Watching Movies and TV Shows
Unfortunately, Google Home currently only supports Netflix and YouTube for playing videos, shows, or films. For now, it seems the only viable option is to get a Netflix subscription.
To connect your Netflix account, first open the Google Home app. Then click more settings. Next tap "Videos and photos". Finally scroll till you see Netflix and tap "link account". Login and you'll be to watch thousands of movies and tv shows at the command of your voice.
If you have any other trouble, the Google Home app provides many tutorials for all kinds of tools so be sure to check those out.