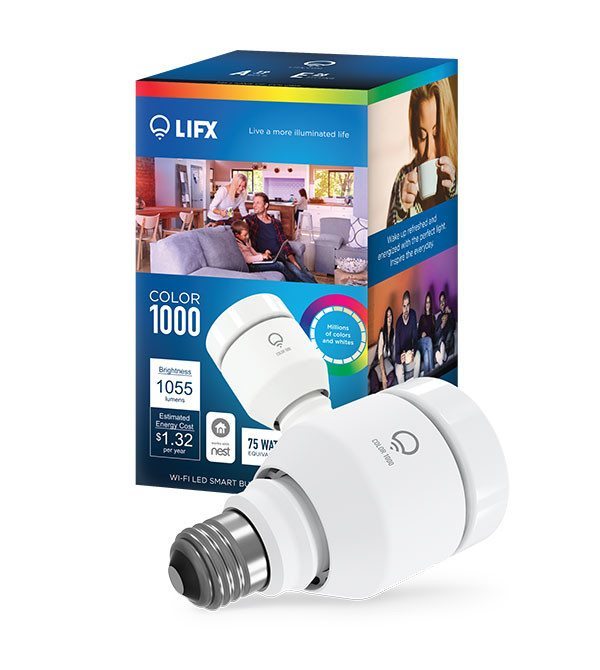 Do you want to experience having brighter space for your home? Are you tired of ordinary bulbs of low quality? The Lifx Color 1000 is the most effective and brightest bulb you can have for your home. It is brighter and more efficient than the first generation of Lifx bulbs, and the colors are just as true. The user-friendly app offers a good number of features; SmartThings and Amazon Echo make the bulb a good choice for a wide range of users and homes.
Features
The Lifx Color bulb is a more compact version of the original Lifx LED. It's the same flat-shaped build as before, but half an inch shorter. It also uses less energy.
As its name suggests, the Lifx Color 1000 smashes that number up above 1,000 lumens. It is a clear step forward from generation one and a very efficient lighting option that produces over 90 lumens per watt.
Pro: Another amazing fact of this item is Lifx Color 1000 is designed in such a way that the default setting is the brightest part of the spectrum. This isn't the same as with Philips Hue, where the spot in the white light spectrum sits at about 4,000 K.
Con: However, the Lifx Color 1000 has its bad features too in case of design. The flat-topped bulb doesn't project any further than the width of its base. Lifx makes up for it somewhat by being a much brighter option in general, but in spite of this, design offers more positive features than negative, I liked it!!
Smart for home automation
The item is something very handy for smart automation lovers and especially in this case when Lifx Color 1000 comes with some smart features.
With a color wheel, it's easy to turn the specific shade you want to the top. It looks nice, but it's a bit of a headache in practice actually your finger blocks the part of spectrum you're aiming for which makes it tough to see which shade you are selecting.
When you tap on "Themes" option it brings a list of color cycles. Each cycle is connected to an emotion like "Happy" or "Exciting," and paired with a colorful icon that gives you a variety of tones which super amazing.
Are you a music fan? If yes, this option will interest you. There is a music visualizer that can sync lighting changes in rhythm with whatever music you're playing. This works well enough if you play music on your phone itself.
Among competitive color-changing smart bulbs, the Lifx Color 1000 is the most effective, brightest and cool item. At $60 each bulb, Lifx boasts a number of useful integrations with popular products and services.
The price can seem a bit expensive for you but taking into account all the deals and smart options it offers, the bulbs are something you should have for your home.
Still thinking? I am personally going to make this day for me and buy Lifx. That is my final decision. What is yours? DO it now!