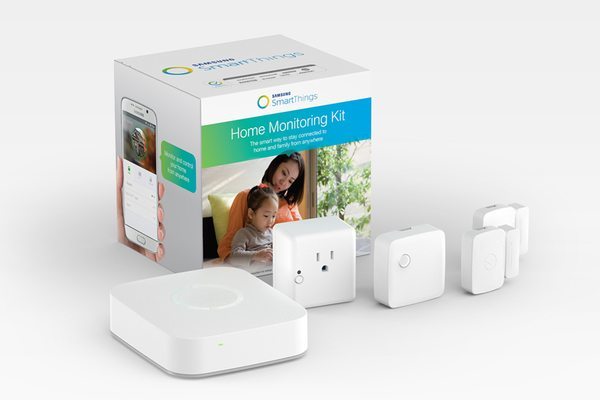 In this modern world the necessity of smart things has become more than urgent.
Why? People strive for the better and want live their life with all the smartness technology can provide. As for home automation devices many people are just fans of them and never miss every novelty. With support for many Z-Wave, Zigbee, and Wi-Fi devices, the Samsung SmartThings Hub is one of the most versatile home automation hubs around. That's the idea, anyway. But what can you actually do with it, and does it work? Go through the review and found all the DETAILS.
Design & Features

As a perfect production from Samsung's effort to break into the Internet of the connected home, SmartThings is an amazing kit designed to network your appliances, lightbulbs and other smart gadgets to one central hub which controls everything via simple smartphone.
Smart Hub itself sports the same glossy white finish as the original model. It holds an Ethernet port, 2 USB ports and a power jack at the back and a single small status LED in the front.
In addition to Z-Wave, Zigbee, and Wi-Fi radios, the hub contains Bluetooth motherboard but it is not yet activated.
It can also process video from compatible security cameras so you can view live and recorded video from within the app.
GOOD NEWS – Thanks to an active developer community, SmartThings are close to 200 compatible products that can be controlled through the hub. The list includes thermostats, lighting products, door locks, video cameras, garage door openers, audio devices. So it means you can now control almost everything via one hub. PERFECT!
Setup
Setup is not actually as smart as you could think. It is really complicated. Samsung's SmartThings can do a lot, but Android, iOS and Windows app is the only point of access between you and your system which is a problem .
From setting up the hub to configuring the last SmartThings sensor, and even adding third-party devices like Philips' Hue LEDs into the mix, It can be difficult to find what is what and the configuration process.
Performance
When we tested Hub, it really showed nice results. It worked smoothly with no errors or bugs.
For starting the program, you can choose "Connect Now" to have the hub search for compatible devices or select a device from an extensive list.
You can receive notifications immediately whenever a connected window sensor is opened or closed. The sensors also show correct room temperatures.
Conclusion
The Hub costs only $99 offering the widest variety of integrations and features with impressive performance. With only small price, you get life-changing item capable of controlling more than 50 gadgets and home automation.
Generally I'd recommend SmartThings to anyone interested in building a multi-product smart home at this moment. You can surely try because you lose nothing; rather you get control of the perfect kit and collection to make any smart device work perfectly with the SmartThings Hub.
But it NOW, Live your Life Happily, Make it Yours!