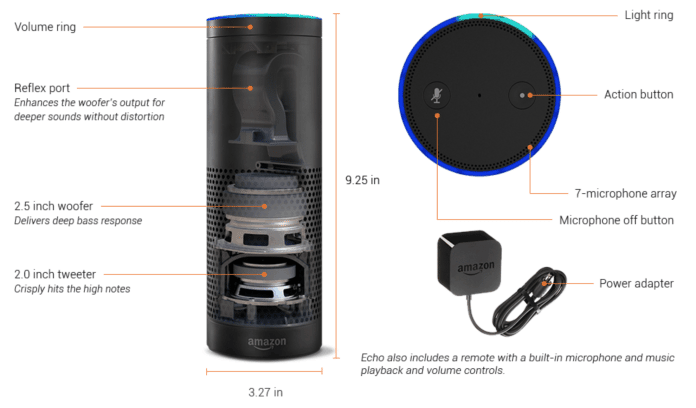 Manufactured by Amazon and released on November 6, 2014, Amazon Echo is a pretty neat voice command device. It's a 23.5cm tall cylindrical in shape speaker which comes with woofer, tweeter, remote control and a microphone. The AI in this gadget is known as Alexa. Alexa continuously listens to everything which is said in the room or the house and responds accordingly when asked about anything.
Based on cloud processing, Echo runs on Amazon web services and requires a good Wi-Fiinternet connection to work properly. Being a voice recognition based device, a good internet will not only help in minimizing processing time but also will reduce any miscommunication between the user the gadget.
Looking at the hardware, Echo comes with a cortex A8 Processor, 256mb ram and 4GB of data storage. It's made of plastic but the quality of the device is pretty good. Connectivity is given by dual band Wi-Fi and Bluetooth 4. Alexa has to be always plugged in as it does not comes with any battery. It has seven microphones built into it which can hear you in any direction. In terms of sound quality the amazon echo actually delivers a rich and crisp sound. With the 360 speakers you can actually fill the room quite nicely. That being said, the echo doesn't have the best sound quality but for the price it's not really bad at all.
The Echo can play music, answer questions, get the news on weather or create a do list and much more. You don't actually have to yell at it as it uses far field technology so it can hear you anywhere in the room. It's an astonishing gadget as it knows everything. All you have to do is ask. It's always updating itself through cloud so it can answer any of your questions for example, how tall is Mount Everest?
It's an ever evolving device. The more you use it, the more it gets smarter and gets accustomed to your speech patterns. Recent updates from Amazon lets Echo to play music through Pandora, Apple store and much more prime online music stores. The Echo can be access through any compatible app which you can download from your play store or apple
store.
Alexa performs great when coming to home automation. You don't even have to lift a finger. Echo can switch on/off your lamps, fans and heaters, dim the lights and much more. Echo is compatible with Belkin Wemo, Philips hue, SmartThings, Insteon and wink connected devices.
Alexa is always on, always connected and is ready to give you any information you require. In addition to that she's a personality similar to Cortana and Siri and can give personal replies. She works with conjunction with amazon app which is compatible with IOS and Android. From the App you can control all the aspects of the device like to do list, shopping list, timers, alarms and much more. You can even enable voice purchasing and one click payment methods.
For the current price which is $150 to $200 I think she is a tiny bit over priced in terms of voice functionality. The sound quality however surprisingly is good, I mean for a Bluetooth speaker so that might justify the price. Keeping in mind there is no auxiliary port you have to rely on prime music and any compatibility apps or you can stream music from your phone via Bluetooth.
Alexa is just an icing on the cake. This futuristic Bluetooth speaker is based on the cloud so her functionality will keep on improving from time to time. The Echo is far from necessary but it pretty darn impressive.
Key Features

Easy Setup

Connect to your home network with a simple setup, guided by the free companion app on Fire OS, Android, iOS, and desktop browsers.

Just ask

Echo is always ready, connected, and fast. Just say the wake word, "Alexa," for:

NEW – Audible: Play audiobooks from Audible with Echo. Plus, Echo supports Whispersync for Voice to continue right where you left off.

NEW – Calendars: Check your upcoming schedule by asking what's on your Google calendar.

NEW – Shopping: Restock on previously purchased items by re-ordering Prime-eligible products in your Amazon shopping history.

NEW – Connected home: Control compatible WeMo, Philips Hue, SmartThings, Insteon, and Wink devices with your voice.

NEW – Traffic: Hear commute time and the fastest route to your destination.

NEW – Sports: Ask for sports scores and schedules from the NFL, NBA, MLS, MLB, NHL, NCAA, WNBA, and more.

NEW – Pandora: Listen to and discover music from Pandora's library of over 1 million tracks.

Music: Listen to your Amazon Music Library, Prime Music, TuneIn, and iHeartRadio.

News, weather, and information: Hear up-to-the-minute weather and news from a variety of sources, including local radio stations, NPR, and ESPN from TuneIn.

Questions and answers: Get information from Wikipedia, definitions, answers to common questions, and more.

Alarms, timers, and lists: Stay on time and organized with voice-controlled alarms, timers, shopping lists, and to-do lists.

More coming soon: Echo automatically updates through the cloud with new services and features. Find out what's new.