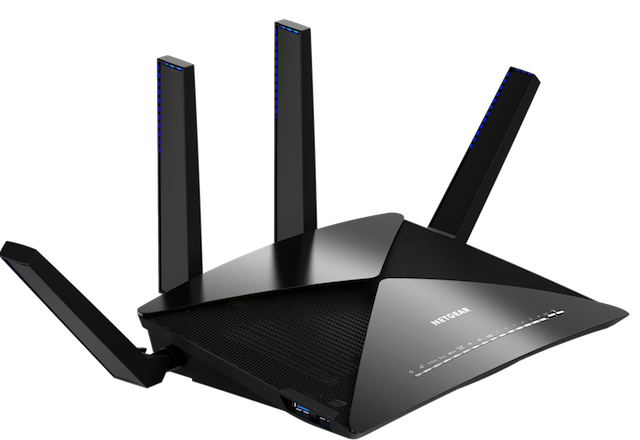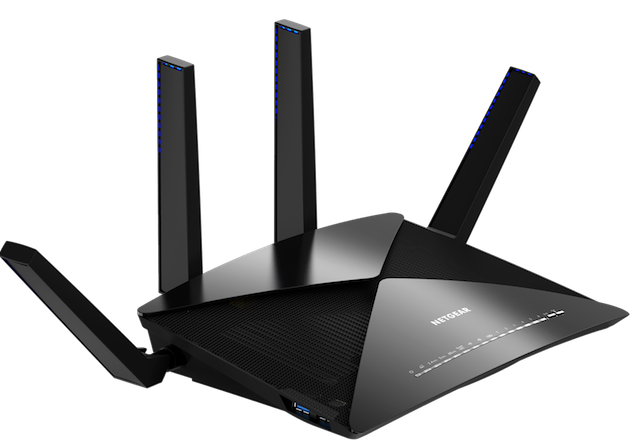 The NETGEAR Nighthawk X10 AD7200 802.11ad Smart WiFi router (R9000) costs $500. Let's get that out of the way. Some people think this is way too much to spend on a wireless router. Depending on your budget and needs, yeah, this could be too much for you. If you have a big home and spend a lot of time on the internet, however, money may be no object for a fast and reliable connection.
This particular router is NETGEAR's top-of-the-line home offering, meaning it is chock-full of features and technology. In fact, it even has 802.11ad — something that is not worth getting excited about — yet. This is not found on many routers nowadays, and for good reason — it is very short-range and there are virtually no devices that can leverage it.
Unfortunately, this means I could not test 802.11ad at all. Instead, I connected over 802.11ac with multiple computers — my Linux laptop, Windows 10 desktop, MacBook Pro, iPad, and iPhone. Of course, I also connected my various other devices, such as my wireless printer, Amazon Echo, and Internet of Things accessories.
Another thing I cannot test is the 10G LAN SFP+ port. This is typically only used in businesses, although some home users could leverage the ultra-fast hardwired connector. Unfortunately, I do not have any compatible hardware and most home users won't either. This could prove very valuable to small businesses.
My house is fairly large, and it has three levels — a basement, main floor, and second floor. I need solid and reliable connections on all floors, as I spend time on all of them. Heck, I also need it to reach outdoors on my porch and deck. For this reason, I position the router in the center of the main floor to best distribute the connection. I'd prefer not to fiddle with extenders or mesh networking if I do not have to.
I am happy to say that the NETGEAR Nighthawk X10 blankets every inch of my home. Not only that, but it reaches my outdoor locations too, such as my porch and deck where I spend time computing in the warmer months. Actually, it is able to reach well into my backyard while still offering great speed.
UNBOXING
NOTABLE HARDWARE SPECS
Processor: Quad-Core 1.7GHz processor
Storage: 512MB NAND flash
RAM: 1GB DDR3 SDRAM
WiFi Band 1: 800 Mbps @2.4GHz – 256QAM
WiFi Band 2: 1733 Mbps @5GHz – 256QAM
WiFi Band 3: 4600 Mbps @60GHz – SC
Ethernet Ports: Seven 10/100/1000 Mbps Gigabit Ethernet ports (1 WAN and 6 LAN)
The rear of the Nighthawk X10 has six gigabit Ethernet ports (most routers usually offer only four), and yes, I leverage some of those too. The router is in my living room, next to my Samsung smart TV, Xbox One, and TiVo. Since I can easily hide the wires, I connect these devices to the LAN ports for best performance. There is no reason to further saturate the wireless network if not needed. Actually, as a best practice, a wired connection is always preferable — if possible and convenient.
Since I keep my router in my living room, I need it to look classy and not be distracting. I am happy to say that the R9000 looks attractive, and does not stand out. While it is not as conservative as say, an Apple AirPort, it is not conspicuous either. In fact, you can even turn off all of the LED lights, of which there are many, so they do not distract from TV or movie watching.
What really piqued my interest with the Nighthawk X10, however, is the integrated Plex Media Server. If you aren't familiar, Plex is an easy to use platform to stream locally-stored media, such as family photos and movies. You should be able to connect a USB storage device — full of media files — to the R9000 and access them without the need of a running PC.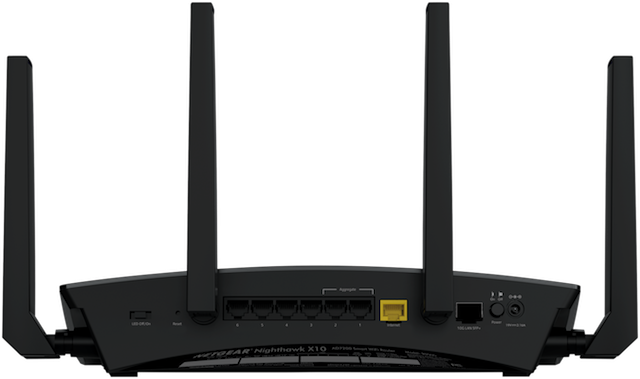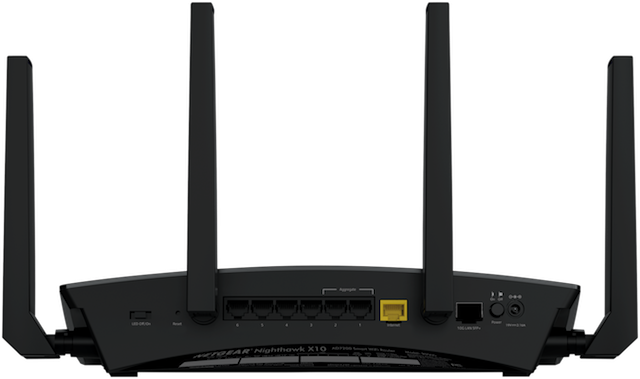 The router has two USB 3.0 Type-A ports. I have a 2TB USB drive full of media files, so I plugged it in and logged into the router. Surprisingly, Plex would not recognize the drive. As a test, I plugged in a spare flash drive which was recognized.
Odd. What was the difference? File systems. The hard drive was formatted in exFAT which is not supported. As long as your drive is formatted in the following (as listed in the manual), it should work flawlessly.
FAT16
FAT32
NTFS
Ext2
Ext3
Ext4
HFS
HFS+
Once I had a compatible drive connected, I was off to the races. This allows me to view photos and videos on all of my devices without needing to keep a PC running at home — the router takes care of it all. It worked flawlessly, and I couldn't be happier. You can also set up automatic data backups to Amazon Drive in the cloud if you want — the R9000 even comes with three months for free to try it.
It is worth mentioning that during my testing, Netgear was criticized for a nasty vulnerability, that hit many of its routers. While some people claimed the R9000 was affected, in my testing it is not. Using the newest firmware, V1.0.1.36, the Nighthawk X10 AD7200 proved rock solid and secure.
So, do I recommend this router? Oh, heck yes! However, it is not for everyone. If you do not need the Plex Media server, or don't care about future-proofing with 802.11ad and 10G LAN, you can definitely save yourself a lot of money. For example, you could choose one of the company's less-expensive models, such as the wonderful R7000, which can be had for under $200.
Who exactly is the NETGEAR Nighthawk X10 AD7200 802.11ad Smart WiFi router for then? It is for the home user or small business owner that wants no compromises, and has no problem spending $500 for long range and a ton of cutting-edge features. If that is you, please do not hesitate to buy the R9000 — it is home router nirvana.