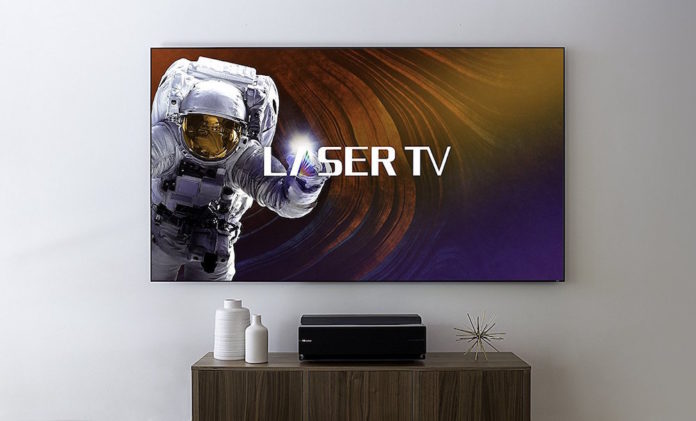 One new product making a splash with its debut at CES 2018 is Hisense's Laser TV. This sleek piece of technology makes big promises to combine excellent video and audio quality with simplistic, non-intrusive design. It works by projecting images onto a thin screen that hangs easily without wires. Hisense promises a clear picture in any light, allowing a theater-like entertainment experience without having to sacrifice the design elements of well-lit rooms.
The 75-inch version of the Laser TV on display at CES caught the eye of CNET who listed it among their "dream" TV setups.  Hisense used the event to launch their newest model, which boasts a 150-inch display.
The technical specs of the device are certainly impressive. The Verge explores the details and points out that the Laser TV projects eight million pixels with a light source rated at 3000 lumens. This light source promises a 20,000-hour lifespan. It uses quantum dot color technology and also provides the added convenience of Alexa voice control. The Verge also notes that the $9,999 price tag is reasonable next to comparable products like Sony's short throw projector, which sells for much more.
While Hisense might not yet have the name recognition of companies like LG and Samsung, Hisense's official sponsorship of the 2018 World Cup and its presence as the official televisions for the event demonstrate an opportunity for booming popularity. Coupled with their exclusive partnership with Fox for an app to air the games with customizable camera views covering 37 different angles, it's reasonable to expect Hisense to generate a lot of buzz in the coming months.
As changes to consumer habits in entertainment consumption put more and more pressure on in-home theater setups to deliver high-quality experiences, contenders like Hisense demonstrate that these demands will continue to be met in bigger, flashier, more convenient ways.