It's easy to see why Amazon's Echo Plus and Echo Dot devices have proven to be so popular: they offer a convenient and inexpensive way to bring Alexa into your home. Music streaming is certainly one of the primary reasons to buy into the Echo hype.
For quite some time, however, the Echo family has had a problem. While many people would be sufficiently satisfied to slap an Echo Dot in the corner of their living room, audiophiles weren't so convinced. After all, why purchase an Echo Plus or Echo Dot when your home is already filled with a much higher end stereo system?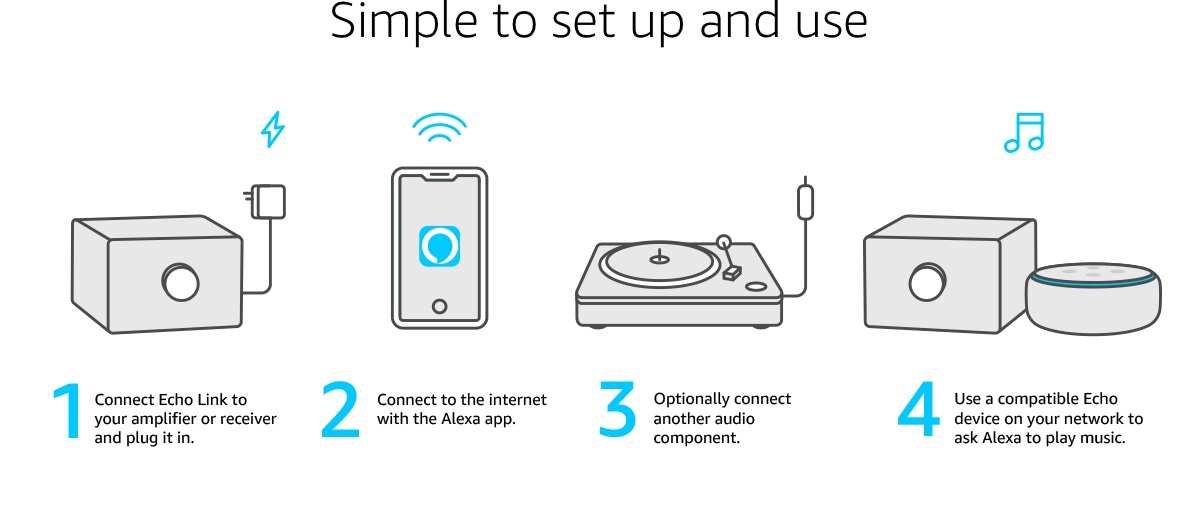 That's not to say audiophiles are stuck in the past. The benefits of streaming from vast libraries of music are obvious, but quality still matters. And for that matter, you don't even need to be an audiophile per se to want to keep your existing stereo system intact.
For years, consumers have turned to solutions like the Sonos Bridge to add streaming functionality to their existing hi-fi systems – lossless or otherwise. Amazon, as they are wont to do, have capitalized on this market by offering the Echo Link, and at roughly half the cost of the Sonos Bridge and other competitors.
What is the Echo Link?
In short, the Echo Link is a simple piece of hardware that sits between your amplifier and other audio components (turntable, Bluetooth, etc.). The Link then pairs with other Echo devices on your network to treat your existing stereo setup as one big Echo device. We're talking analog in/out and hi-res audio support in addition to everything else your Echo Dot or Echo Plus may support. If you were disappointed with your attempts to plug an older Echo device directly into your stereo system, then the Echo Link is for you.
Note that the Echo Link is not an amplifier itself. If you are just building your hi-fi system, then the Echo Link Amp offers everything the Echo Link does, but with a high quality built-in amplifier.
Technical Details

For more information, see the manufacturer's listed technical details below:
Size
4.5 x 5.3 x 2.7 in (115 x 135 x 68 mm)
Weight
18.0 oz (510 g) Actual size and weight may vary by manufacturing process
Audio inputs
Analog (1 x L/R RCA)
Digital (1 x Coaxial RCA, 1 x Optical Toslink)
Audio outputs
Analog (1 x L/R RCA, 1x Subwoofer RCA)
Digital (1 x Coaxial RCA, 1 x Optical Toslink)
Headphone
TPA6120A2 High fidelity stereo headphone amplifier and 3.5mm output jack
Volume
Volume knob for granular control.
THD
Analog Line-out: < 0.008%; Amplified headphone out: < 0.01%
Measured un-weighted at 1kHz maximum output, 20 – 20kHz bandwidth AES17
Frequency response
20Hz – 20kHz +0/-1dB
5Hz – 22kHz +0/-3dB
Dynamic range
Min. 94 dB
Measured un-weighted at 1kHz maximum output, 20 – 20kHz bandwidth AES17
Channel separation
Analog Line-out: Min 100db; Amplified headphone out: Min 70dB
Measured un-weighted at 1kHz maximum output, 20 – 20kHz bandwidth AES17
Sampling frequency
Sample rates of 44.1, 48.0, 88.2, and 96.0 kHz are supported over optical and coaxial digital inputs
| | |
| --- | --- |
| Ethernet | Single RJ45 jack supports 10/100 Mbps Ethernet. |
| Wi-Fi | Dual-band Wi-Fi supports 802.11 a/b/g/n (2.4 and 5 GHz) networks. Does not support connecting to ad-hoc (or peer-to-peer) Wi-Fi networks. |
| Bluetooth | Advanced Audio Distribution Profile (A2DP) support for audio streaming from your mobile device to Echo or from Echo to your Bluetooth speaker. Audio/Video Remote Control Profile (AVRCP) for voice control of connected mobile devices. Hands-free voice control is not supported for Mac OS X devices. Bluetooth speakers requiring PIN codes are not supported. |
| Alexa App | The Alexa App is compatible with Fire OS, Android, and iOS devices. |
| Accessibility | The Alexa app and Alexa-enabled products include several features for customers with accessibility needs related to vision, hearing, mobility, and speech. Learn more about Alexa accessibility. |
| Documentation | Quick start guide; Help resources are available online at www.amazon.com/echolinkhelp including setup, input and output options, music playback, and troubleshooting. Help, tips, and guidance is available from other owners in the Amazon Forums at www.amazonforum.com. |
| Warranty & Service | 1 year limited warranty and service included. Optional 1-year, 2-year, and 3-year extended warranty available for U.S. customers sold separately. Use of Echo Link is subject to the terms found here. |
| Included in the box | Echo Link, power adapter (21W), and Quick Start Guide. |
Deciding Factors
While the Echo Link is a strong competitor on price alone, for some audiophile consumers, there are still considerations to be made. Most importantly, perhaps, is that the savings may not be enough to jump ship from existing systems like Sonos. Additionally, while the Echo Link provides a satisfactory solution for your existing stereo system, it does not allow streaming to other Echo devices.
Regardless, the Echo Link is a great solution for those who likely spent hundreds filling out the stereo cabinet with great gear in a prior era. The Link may be just what you need to pump new life through those speakers!