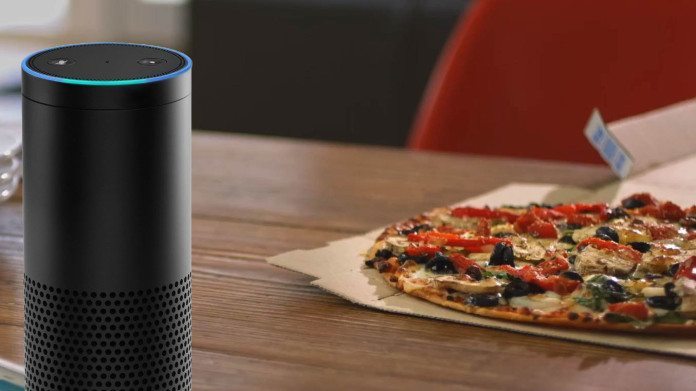 Get going with Uber, Dominos and Spotify on your Amazon Echo
Alexa can now hail an UberX for you. Order a toothsome pizza from Dominos. Even, play a soulful song from Spotify to cheer you up.
Amazon echo has been building up slowly and steadily a library of third party apps. It has approximately 200 third party skills registered with it by now.
However, let us discuss the three most talked about apps on Amazon Echo:




Uber recently announced that its Application Program Interface has been integrated with Amazon Echo. This means one can hail Uber by simply giving an instruction to Alexa. Interestingly, you will not need to give one specific instruction for calling your uber. Alexa will be accepting more than a dozen of different iterations for calling an uber like, "Alexa, ask Uber to call me an UberX", "Alexa, ask Uber to get me a ride," "Alexa, ask Uber to call me a taxi", etc. The matter of fact is that for Alexa words like ride and taxi are synonyms to Uber. Importantly, you can also ask whereabouts of your cab and ask questions like "Alexa, ask Uber where is my ride?" to effectively and easily track your cab.
For activating Uber, all you need to do is set your Echo's location in the settings then search for Uber in the skills section of the app and enable it. Once it is enabled you can connect your Uber account with it. Yay! You are ready to hail a taxi via Amazon Echo now.
Alexa can now order you Pizza from Dominos and also track it via your Amazon Echo. "The magic of ordering pizza without lifting a finger and just using your voice is now a reality with Alexa and Domino's," said Alexa Director Rob Pulciani.
All you need to say is, "Alexa, ask Dominos to deliver me my most recent order" and you order will be very much on its way. To avail this service via Amazon echo, you need to enable Dominos skill from the list of skills listed in the App inside Echo's settings. Once you enable the Dominos skill you will need to connect your Dominos Pizza profile account with it and add your phone number necessarily if you would like to track your pizza effectively.
Spotify Premium users in the U.S. can now readily listen to their favorite songs by giving voice commands to Alexa. Though, it is not absolutely hassle-free as it will still require you to pair your mobile device that has spotify already working in it. Still, it makes life much easier when you just want to lie down and
listen to music endlessly yet comfortably.
With Amazon echo all you will need to say is "Alexa, Play [song name] from Spotify" or "Alexa, Play [Discover Weekly] playlist from Spotify". However Unlike uber where any kind of transport is a synonym to Uber, you will need to specifically mention "spotify" every time when you want to listen songs via spotify.
Setting up spotify on your Echo is super easy. Open the Alexa app on your phone. Tap the Menu button in the top-left corner. Select Settings. Head to Music & Media. Tap Spotify. Tap Link account. Log into Spotify by entering your username and password, or tap Log in with Facebook if you have an account created through Facebook. Tap OKAY.