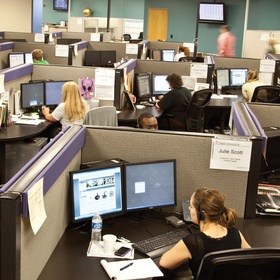 The complexity inherent in large networks of connected devices brings the contact center front and center in the Internet of Things (IoT) era.
By connecting devices, cars, homes, gadgets—just about everything it seems—the Internet of Things (IoT) is already transforming the retail customer experience in meaningful ways. Big retailers are using tiny remote sensors to engage shoppers online and in the store, as well as to manage inventory, serve up real-time deals, and to prevent stock-outs, just to name a few.
For example, in its Boston flagship store footwear and apparel maker New Balance is embedding Radio-Frequency Identification (RFID) chips in hangers and price tags to measure customer interaction, and digitally display additional product information and make accessory recommendations
Wearable technology and augmented reality are beginning to take the in-store and cross-channel buying experience to a whole new level of customization. Location-sensing beacons placed inside retail locations connect to smartphones, smartwatches and other connected devices. CVS Pharmacy's mobile app, for example, would share a real-time notification alerting you to a 2-for-1 deal on shaving cream as you happen to walk by a store, while Target's Cartwheel app allows customers to scan a product's barcode while in the store to get an immediate discount, even earning badges to generate additional discounts.
Compiling the information collected by apps like these, including search histories, length of shopping trip and other data can deliver a deeply personal shopping experience. Paired with the online shopping experience, which has led the way on personalization, it can start to feel like someone's been watching you.
Prioritizing the Post-Sale Shopper Experience
For retailers selling IoT-connected wearable devices, home automation, security systems and smart stereos that consumers covet, it's critical that they also prioritize the post-sale shopper experience. Today's customers, particularly Millennials, demand the personalization that IoT enables, but they also want both their shopping and customer service experiences to be quick and consistent across every support channel.
Among consumers, demand for connected devices is growing at an astonishing rate, and the scale is already huge. In less than three years, there will be more than 2.1 billion fixed consumer entertainment devices, which include connected TV's, digital media adapters, video game consoles and other web-enabled connected devices, according to a recent IDC Research study sponsored by Telus International.
While connected devices have made their way into the households of millions of consumers, less than one-third of those surveyed by IDC feel they take full advantage of their devices, and nearly a quarter of them feel that their digital assets had capabilities that would be useful, if only they knew what they were.
That's a lot of untapped capability! Truth is, no matter a customer's level of technical know-how, more networked devices with more digital applications also means more opportunities for confusion. Because consumers now need to understand not just their own device, but also how it interacts within an ecosystem of other connected devices.
Though many tech-savvy consumers will choose to engage companies through self-service and FAQs, the complexity inherent in large networks of connected devices will bring the contact center front and center. According to the IDC report, call center operators anticipate increases of 10-50 percent in the agent population to handle the increased complexity of call drivers serving connected devices.
Contact Centers Help Tame the IoT Complexity
When it comes to customer service, who is responsible for providing the support when you're trying to set up your Logitech remote to work with your Wi-Fi, in order to control your GE appliances? Or, on a more serious note, who do you call if something happens to your health monitoring device. Do you contact the device manufacturer? The healthcare provider? The insurance company collecting the health data?
An agent providing support in such an instance will need to be well-versed in all of these devices, and not just on one particular brand or gadget. In the health monitoring example, agents may also be addressing more serious questions around healthcare, requiring at least a basic understanding of liability issues.
Senior leaders will need to ensure customer service agents are equipped to handle such complex diagnostics issues and feel empowered to take the time necessary to manage customer issues, even if it increases average call times, according to the IDC report.
Further, with recent IoT-related cyber-attacks making headlines worldwide, there is now an even greater sensitivity around privacy and security when it comes to connected devices. Transparent and open communications about how brands are protecting this data and building security into the products themselves can build consumer trust. It's an opportunity to arm call center agents with the appropriate information and messaging to explain how customer data is protected.
Finally, as digitally-savvy consumers move between phone, email, chat and potentially social media customer support, agents will not only need to be motivated, capable and friendly, but they'll also need to own the customer issue through resolution, no matter the channel.
Benefits of Catering to the Connected Consumer
The benefits to consumers will be huge. Time savings, increased engagement and personalization—in a true omnichannel environment—will help smart companies delight their customers. Because it's not just about serving them across channels, but tracking their behavior and service interactions to identify optimal responses. That could mean offering a deal or discount, or, in the event of repeat calls or obvious frustration, an exclusive offer or upgraded membership at no extra charge to convince them to stay.
With the 80-million-strong generation of Millennials directly impacting upwards of $500 billion in spending, it's a generation worth catering to. Fostering a relationship with these connected consumers helps build long-term loyalty, even active brand advocacy.
We should all expect connected consumers to demand more and more from their digital devices, as well as from the retailers that sell and service them. Those that create the most engaging and timely in-store, online and support experiences for customers will be the ones that prosper in the new world of IoT.
Telus International is a provider of outsourced services, including operting contact centers for online retailers.