In August, we heard some big news from Sonos — starting in 2017, it'll be possible to control your home's Sonos speakers using Amazon Alexa and the Spotify app. But, for the impatient, they also mentioned that both of those features would be available as a public beta before the end of the year. We're still waiting on Alexa, but this week Sonos has announced that the public beta for the Spotify app feature is now live.
Using the beta version of the feature, it'll be possible to play music on Sonos speakers using the Spotify app. Not only that, it'll be possible to see and control individual speakers, create new groups, or remove speakers from groups. It sounds like all the core functionality of the Sonos app will now be accessible within the Spotify app, and we're all for needing only one app instead of two. Storage space is hard to come by these days!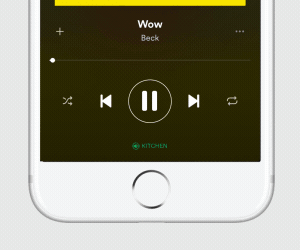 Using the Spotify app to control your home Sonos speaker system opens up a couple other cool features. Guests will now be able to use their own Spotify accounts and apps to stream music to your speakers, which is always going to be an adventure. It'll also be possible to cue up music remotely — we're not totally sure why you'd ever do that, but we have no doubt you're going to find that useful one day and be really glad they added the feature.
The public beta is available now, and you can sign up for it by joining the Sonos Beta Program if you're using Spotify on PC, Mac, or Android. If you're an iPhone user, you'll need to wait until the full launch of the feature next year. No word yet on when the Amazon Alexa public beta will launch.