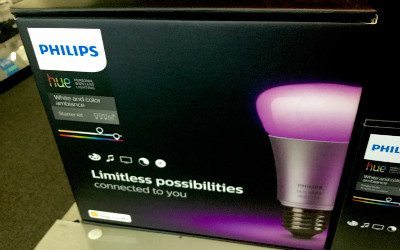 Philips sensor induced automatic lighting is revolutionizing the smart home concept by taking automatic lighting to the extremes. The new lighting sensors will hit the markets in October.
What makes the new Hue motion sensor special is that it can operate without a smartphone or switch. It is most useful in households for many occasions— entering home with hands full of groceries or waking up in the middle of the night and get guided to the bathroom without fumbling around for a phone.
The Philips sensor induced automatic lighting is battery-powered and wireless. As a small square box, it gives the flexibility to be placed anywhere. It will switch on the lights as the user walks by. Measuring just 2.17 inches and 0.79 inches, the Philips Motion Sensor will hit markets by October and will be sold for $40.
According to PC Mag, the Hue sensor can be placed anywhere–atop a picture frame on the wall. It is easy to be wall mounted by using a sticky pad, set of screws, or a metal surface.
The Philips sensor induced automatic lighting has a detection range of 16 feet and a 100-degree detection angle. Its reaction is instant and comes in less than a second without even using a camera. The viewing angle can be adjusted to 30 degrees horizontally or vertically.
Sensor Surpasses Digital Personal Assistants
As the latest smart lighting control option, Philips Hue motion sensor beats Amazon Alexa voice control and Siri voice of Apple HomeKit. The Hue motion sensor totally scraps the need of talking to any digital personal assistants for lighting tasks.
The motion sensor works with every Philips Hue light — Philips Hue White Ambiance bulbs, and a Philips Hue LightStrip Plus.
Hailing the Philips sensor induced automatic lighting, Gizmodo in a report notes that it has taken forward the 'smart home' concept miles ahead and made life easier than a smartphone app.
Philips Hue app can make the sensor trigger specific scenes. The lights can change color as in Philips Hue Go. The value for money product's AAA batteries have an average life of three years and is easy to customize with individual bulbs or lights in a single room than a motion-activated floodlight.
When customized, it can trigger crisp white light and automatically dim bulbs at specified times. Lights will be turned off when there is no motion. Before shutting off, the Philips sensor automatic lighting will first make the lights dim by 50 percent followed by a minute's inactivity.