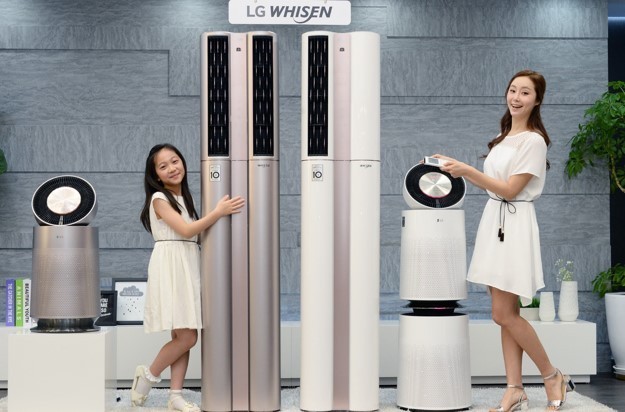 LG Electronics will adopt voice-recognition technologies for all of its air-conditioners from next year, the firm's home appliance chief said at the launch event Monday.
"We will adopt voice-recognition technology for all of our air conditioners to be unveiled from next year. We are taking into account partnerships with outside technologies such as (Apple's) Siri or (Amazon's) Alexa," said Song Dae-hyun, LG Electronics' home appliance and air aolutions chief, at the launch of its new Whisen Dual Air Conditioner in Seoul.
"We will also adopt Wi-Fi technology for all of our home appliances from this year. As to the models previously launched, we are considering Wi-Fi adoption through SmartThinQ sensing technology," Song said.
LG Electronics' new artificial intelligence-based Whisen Dual Air Conditioner (LG Electronics)
LG's SmartThinQ Sensor is designed to work with traditional, low-tech home appliances, turning them into smart appliances.
During the event, LG unveiled the artificial intelligence-based Whisen Dual Air Conditioner, which adopts the company's deep learning technology Deep ThinQ. It enables a device to learn users' lifestyle patterns and surroundings.
The Whisen Dual Air Conditioner secures necessary data about the home during a week after installation and distributes cooled air to the space where people typically are in the house, the company said. This way, users can reduce energy use by up to 20 percent.
The air conditioner also adjusts the strength and direction of air through its body sensing camera, which identifies the number and location of people. When a person stays near the air conditioner, one outlet spreads light wind to the person while the other outlet sends strong air to the other person staying farther from the air conditioner. If there is only one person in a living room, it automatically uses only one outlet, saving up to 50 percent of energy.
LG said it aims to increase its air conditioner sales by 10 percent this year although the global market outlook is not optimistic.
"We aim to reach a 10 percent sales rise by exploring new opportunities with this multi-functional air conditioner — air conditioning, heating and air purifying — which can be used for four seasons," said Lee Kam-gyu, LG's air solution business unit chief.
By Shin Ji-hye ([email protected])