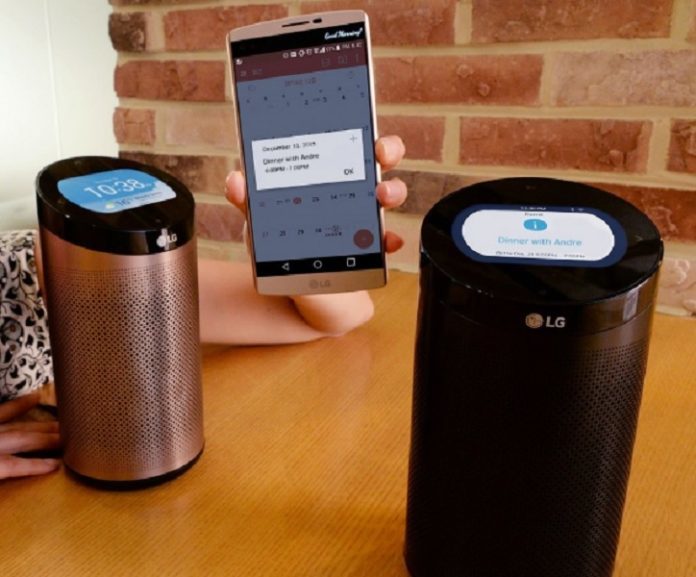 When LG introduced the SmartThinQ Hub late last year, there were already comparisons with the Amazon Echo due to how similar the two devices look and their built-in smart home controls.
The similarity between the LG SmartThinQ Hub and the Amazon Echo will now become even more prominent, with LG announcing at the annual IFA trade show that Amazon's Alexa digital assistant will be added to its device.
LG will be demonstrating its expanding smart home ecosystem at the annual event, with the highlight among the new collaborations being LG's partnership with Amazon.
Alexa, as part of the Amazon Voice Service, is licensed out by Amazon to interested partners who are looking to include the digital assistant in their products. LG has turned out to be Amazon's newest partner for Alexa, as the technology will now be integrated into the SmartThinQ Hub.
The addition of Alexa will allow users to issue voice commands for smart home devices that are compatible with the SmartThinQ Hub. Products in the LG ecosystem that users can now control through their voice include airconditioners, fans and lights.
Originally, users could only control the SmartThinQ Hub through the SmartThinQ app installed in a connected smartphone. The addition of Alexa expands the input options for the device.
However, there is one glaring difference between the Amazon Echo and the Alexa-equipped SmartThinQ Hub. While the Amazon Echo has the always-listening feature that allows users to input their voice command by simply speaking close enough for the device to hear, the SmartThinQ Hub will require users to first press a button on the device before they ask Alexa to do something.
In addition, the number of things that users can ask Alexa to do on the SmartThinQ Hub is very much limited, compared with all the commands that the Amazon Echo can understand and carry out for users.
Users who have made an investment into LG's smart home ecosystem will likely welcome the addition of Alexa into the SmartThinQ Hub. However, with the SmartThinQ Hub not yet released, it might be wise for users to purchase the more powerful Amazon Echo instead of wait for LG's speaker.
While LG has decided to team up with Amazon instead of challenge the Amazon Echo with the LG SmartThinQ Hub, Google is looking to release the Google Home speaker to rival Amazon's smart speaker. Parent company Alphabet recently moved dozens of engineers from smart home division Nest Labs to Google to bolster the development of the upcoming device.
© 2016 Tech Times, All rights reserved. Do not reproduce without permission.