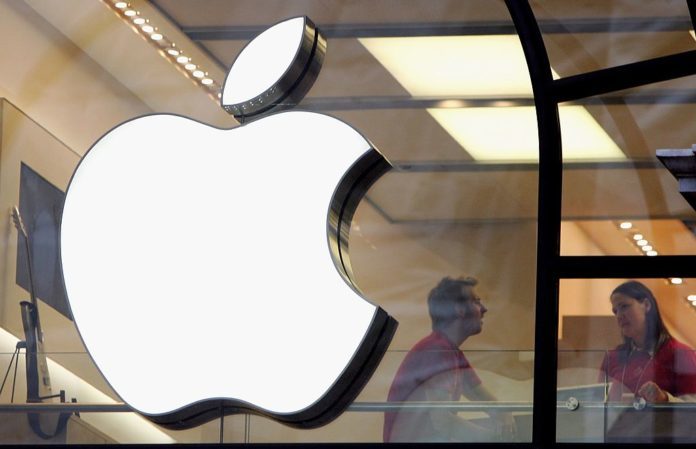 DECEMBER 27: People are seen behind the Apple logo in Apple's flagship London retail store on Regent Street on December 27, 2006 in London, England. With many stores open for the first time since Christmas Eve, bargain hunters are searching for the best buys as the post-Christmas sales get under way.
(Photo by Scott Barbour/Getty Images)
Apple is slowly conquering the technological world by widening its apps' offers. iTunes, responsible for downloading music, books, podcasts and news, introduced a downloadable audio called "Spoken Editions," which are collections of written articles turned into audio materials.
According to a report from Techcrunch, a reader can hear his favorite article while doing other chores or activities with "Spoken Editions." This feature allow users to listen to a participating publisher's article as podcasts. These are described as "short-form programs," which is useful for those who want to be productive while "reading" the news or articles.
Apple has teamed up with several publishers such as Wired, TIME and Forbes for their collections on iTunes, while the responsibility of adding voice falls on SpokenLayer.
"Spoken Editions" may be powered by SpokenLayer, but certainly this is not a partnership. Apple reportedly chose the company for the new iTunes feature because of its interesting way on giving a certain brand its own "voice."
SpokenLayer has a partnership of creating podcasts with Forbes, Huffington Post, Time, Reuters, Smithsonian, Scripps and others, as stated on their website.
SpokenLayer Profits From "Spoken Editions"
"Spoken Editions" has audio ads, the profit from which will be shared between the publisher and SpokenLayer.
"We have distributed network of voice-over talent that is tagged and managed," SpokenLayer CEO Will Mayo explained to Techcrunch, though he did not explicitly refer to the feature.
Meanwhile, rumors are circulating the tech world indicating that Apple is currently working on an Amazon Alexa competitor. The Cupertino tech company reportedly wants to deliver these latest additions in light of the popularity of voice computing.
Despite this latest move by Apple, it doesn't see its company competing with Audible Channels. It is focused on delivering short-form content of podcasts.
"Spoken Editions" is said to be available starting early October.
© 2016
iTech Post
All rights reserved. Do not reproduce without permission.