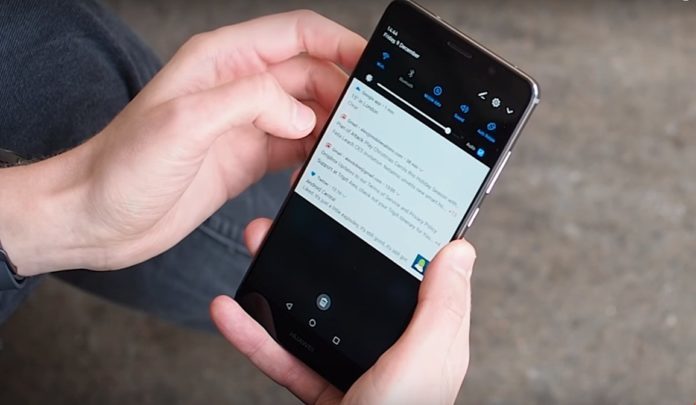 By
Cameron
,
Jan 15, 2017 07:35 PM EST
The Huawei Mate 9 is now availabe in the UK. It runs on Android 7.0 Nougat and is equipped with the Hisilicon Kirin 960. It is also the first ever smartphone to have Amazon's Alexa pre-installed on its software. (Photo : Android Central/YouTube)
Great news for the Huawei fans in the UK, because the Huawei Mate 8 has just hit the UK market.
According to Express, the Huawei's Mate 9 smartphone is now on sale in the UK and is bundled with amazing offers from Carphone Warehouse and Three Mobile. Regarding Carphone Warehouse's offer of the Huawei Mate 9, it will come with 64 GB internal storage and is SIM free for only £579.99 – a real treat for anyone who wants to get their hands on the Huawei Mate 9 Pro.
For the Three Mobile, the company is not only offering one amazing deal, but 4 deals instead that is sure to get you more than your money's worth. The first deal is comes with unlimited date, calls, and texts for only £56 a month. The second deal comes with 12 GB of data, 300 minutes of calls, and unlimited texts for only £42 per month.
The third deal is 8 GB of data with unlimited calls and text for £44 a month. And for the fourth and last deal, it comes in with 4 GB of data with unlimited calls and text for only £41 per month. With all these amazing deals, buying the Huawei Mate 9 is a great deal.
Design. For its body design, the Mate 9 is quite large and heavy compared to your average plus-size smartphone. And for most people, they will find out that hard that the device itself is hard to use with one hand only. It features a aluminum unibody that measures up to 6.18 x 3.11 x 0.31 inches and weighs 190 grams.
Display. The Huawei Mate 9 features a 5.9 inch IPS LCD capacitive touchscreen with a screen resolution of 1080 x 1920 pixels, making it really great for watching videos and reading PDFs or any form of reading material. And though it only features 1080p, the screen is great. Its screen is nice and bright outdoors and colors are vibrant but not too over the top.
Platform And Memory. The Huawei Mate 9 runs on Android 7.0 Nougat and equipped with the Hisilicon Kirin 960 processor. It features 64 GB of internal storage with 4 GB of RAM. It also has an expandability option of 256 GB via a microSD card.
Camera And Battery. The Huawei Mate 9 has amazing camera specs. At the back, it has 2 lenses: a 12 MP color sensor with Optical Image Stabilization, and a 20 MP black and white sensor for making up extra details, making it quite capable capturing photos in lowlight conditions and attention to details. It also has this hybrid zoom function which uses the high resolution monochrome sensor that allows the user to zoom of up to 6x to capture more details. Of course, it is not that great compared to the dual-rear camera of the iPhone 7 Plus, but still, for a Chinese smartphone, it truly is amazing.
And for its battery, it houses a 4000 mAh battery and is quite dependable. It can last up to 7 to 8 hours with moderate use. It also has this fast charging feature that can charge from zero to 41 percent within 10 minutes.
Features. One of the most notable features that makes the Huawei Mate 9 a hot commodity is its Alexa feature. Well, technically, it will be the first smartphone to ever have Amazon's Alexa pre-installed on its software. The app will offer customers a natural and convenient user interface when talking to the digital assistant.

TAG
Huawei, mate, 9, Amazon, Alexa, UK, Release, price, Three, Mobile, carphone, warehouse, Specs, features
Related Articles
Huawei Mate 9 Will Be The First Smartphone To Feature Amazon's Alexa
The Huawei Mate 9 is one of the best smartphones of 2016 and was released on the last month of the year. Starting on January 6, 2017, it will also be the first smartphone to have Amazon's Alexa pre-installed on its software.
Win A Huawei Mate 9 For Free From YouTube
A YouTube channel named Android Authority has partnered with Huawei to conduct a giveaway contest with the Huawei Mate 9 as a prize. The Huawei Mate 9 features a 5.9 LCD display, 64 GB with 4 GB of RAM, runs on Android Nougat, and features 20 MP and 8 MP cameras.
© 2016 ITECHPOST, All rights reserved. Do not reproduce without permission..
MORE IN ITECHPOST
TECH
Apple's Wireless AirPods Don't Fall Off The Ears In New Ad
Apple's ads for their wireless AirPods have appeared this weekend. An ad addresses users' concern of earphones.
SCIENCE
Tortoise Injures Leg During Sex; Gets New Set Of Wheels To Help In Moving About
A tortoise has been injured during a sexual encounter while in the process of a breeding program, diagnosed with arthritis and now has wheels to help him with his swollen legs.