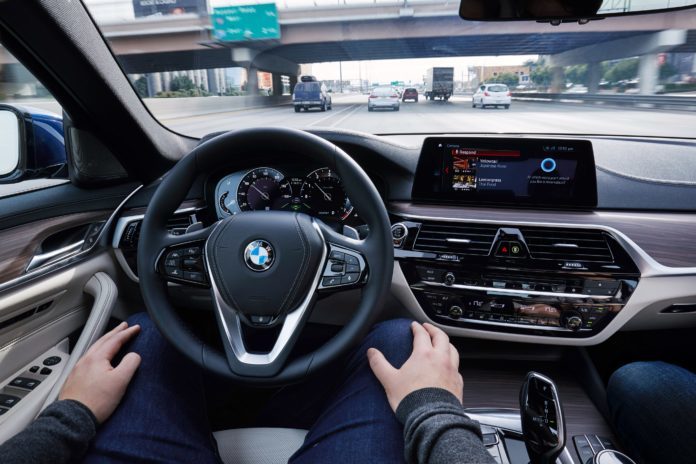 BMW has taken a measured approach to rolling out autonomous driving-assistance equipment on its cars, but not for lack of thought or research. One representative describes the company's process as deeply involved but cautious. "Work like a start-up, deliver like a grown-up," he says. The result has been a typically BMW-esque focus on creating systems that benefit the driver—the brand's longtime motto after all is "the Ultimate Driving Machine."
At the recently completed 2017 CES tech spectacle, we had a chance to experience some of what the Bavarian brand has been up to, looking toward 2021 when it plans to roll out its next-generation driving-assistance system. It turns out that the core focus has been on an app—the Open Mobility Cloud, based on Microsoft's IOS-compatible Azure—that seamlessly integrates and updates your appointment calendar, planned driving trips, and to-do list needs into the vehicle's navigation system. This allows it to push to you routes, driving time advice, and task-achieving recommendations from your endless inventory, and to make branded-partnership recommendations for where you might accomplish them: You're going to be passing a dry cleaner/manicurist/supermarket. Why not stop in?
The new technology allows for drivers to control the dashboard with mere hand movements.
The next-generation prototype car can even, like almost every other device or concept revealed this year at CES, integrate with Amazon's Alexa, allowing you to ask this disembodied Web-enabled voice for traffic information, or to lock and unlock your doors, open and close your windows, check your fuel status, and turn on your car's heat or air-conditioning. Perhaps most notably from a retail partnership perspective, in the future it will also allow you to connect seamlessly with Amazon Prime Now to assist in the search for, purchase, and proximal delivery of the panoply of consumer goods available through the online retail giant. So if, for example, you forgot to pick up some dessert for the dinner party you're en route to, it can seek out the best possible option along the way, allow you to buy it, and even have an Amazon representative meet you at your car with the purchase.
All of this information appears in BMW's next-generation driver information interface, which features rows of swipeable and expandable tiles that can be controlled via the latest activation modality: gesture control—the recognition of hand movements in the air. As on the current system integrated into the latest BMW 7-Series, and the soon-to-be-unveiled 5-Series, a driver can point at something to "click" on it or wave her hand from right to left to "swipe" it away. On a more driving-specific level, the prototype system now allows the driver to take her hands off the steering wheel for unlimited periods of time (so long as she's ready and able to put them back on at the smallest hint of some kind of trouble that the car cannot handle, like a freeway merge or debris in the road). It also allows the car to come to a halt or get under way again, all on its own—convenient in the stop-and-go traffic to which we are so often subjected. Neither of these is exactly groundbreaking or first-to-market; competitors have had systems like this operating for a few years, for better or worse.
The vehicles will have the ability to connect seamlessly with Amazon Prime Now, even sending company representatives to meet you on the road if necessary.
Our favorite prototypical BMW feature was also somehow the most mundane. Through access to wireless infrastructure networks that now exist for traffic control in many major cities, the forthcoming system will be able not only to recognize and alert drivers to the presence of traffic lights at intersections; it will also be able to provide a red-light countdown timer, letting you know if the signal is fresh or stale and how many seconds it has remaining in its cycle, and thus whether or not you have time to check your email and send that reply before it goes green (and the cars behind you start honking).
Also notable is a collaboration that BMW has entered into with its Teutonic archrivals, Mercedes-Benz and Audi. Higher-level autonomous driving requires precise road mapping, at levels of accuracy that far exceed those offered by navigation systems like Google. To accomplish this, the German manufacturers have teamed up to use the slew of cars they now have driving on the roads—along with the dozens of cameras, sensors, and radar monitoring devices with which these cars are equipped—to map, update, and share, in real time and with real-world accuracy, the streets they're traversing.
Our ideal self-driving future, if it is ever to actually arrive, is predicated on the idea of cars communicating with one another and with their human subjects. It will thus require just this kind of collaboration and caution. Though the latest revelations from BMW aren't necessarily cutting-edge, it's comforting to see a company acting prudently to bring this about as opposed to rushing in headlong or overpromising.