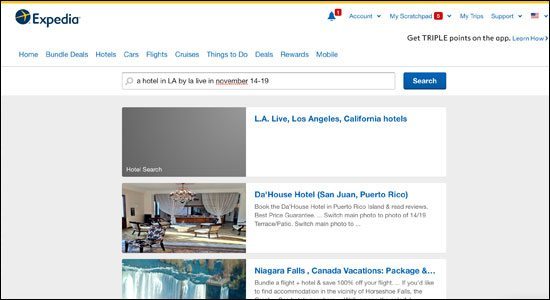 Last month, Expedia Inc quietly rolled out natural-language search to its platforms. The "Search Anything" feature has been added as a tab to the homepages of most of its English-language platform sites for the Expedia, Travelocity, Orbitz, and Wotif brands.
The tool employs artificial-intelligence-powered systems to provide answers to queries like "flights from DEN to Chicago next weekend". It fetches relevant, ranked lists of travel entities, such as hotels and regions. Or if the query is "customer service," it provides a link to customer service.
The tool adjusts to understand local context in search results. For example, searching for "Hotels in Newcastle" on Wotif will return a list of properties in Newcastle New South Wales in the first two positions, versus the same search on Expedia.co.uk, which will surface hotels in Newcastle-upon-Tyne.
The most popular Search Anything query categories in 2016 have been: itinerary, all inclusive, ground transportation, flights, phone number, customer service, train, multiple destination vacation packages, beach, disney, and contact.
A recent sample search "a hotel in LA by la live in november 14-19 for Phocuswright Conference" fetched a link to 589 hotels near the LA Live complex.
Thomas Crook, Manager of Data Science and Technical Product Management, told Tnooz:
"We added support for use cases we didn't anticipate once we started observing unexpected queries users entered. For example, we were surprised at the number of people who directly entered itinerary numbers, so we added a feature to return a link to users' itineraries at the top of the search results when they enter an itinerary or type 'my itinerary."
It's still in beta, but the company plans to keep the feature on its English-language Expedia platform sites for the foreseeable future.
Expedia is testing its internally developed Nautilus search engine, which powers the Search Anything feature, on other parts of its sites. For instance, in conjunction with its machine learning sorting algorithms, Nautilus is helping consumers to filter and refine their hotel search results with free-text search queries, such as "pet friendly hotels with a kitchen."
Since May, Expedia has tested a Hotel Smart Finder tool for its mobile websites. Travelers are presented with an open search box that lets them free-text search by hotel name, location, amenities like wifi and hot tub, or broad concepts such as family-friendly or all inclusive.
The company's interest in natural language search grew once the company discovered that the typical travel search widget is less desirable to use on small-screen mobile devices.
The potential rise of spoken-language tools like Amazon's Alexa also makes natural-language tools appealing. For instance, metasearch site Skyscanner has experimented with voice-powered flight search for Alexa.
Other companies have experimented with either natural language processing or robotic texting with their guests, especially for Facebook and Skype chat bots. (Expedia's natural-language search is similar to the interface on the company's chat bot for hotel booking requests via the Facebook Messenger platform.)
Smaller brands like Hipmunk, based in California, Wayblazer, a Texas company based on IBM Watson's technology, and Tripcon, based in Tokyo, have also been experimenting with natural-language search.
Expedia completed its first version of the patent-pending Nautilus travel search engine in 2012. In July of 2012, it launched "Semantha," an internal employee hotel-booking site powered by Nautilus. Semantha responded to natural language queries by plotting hotel results on a map view of a destination.
A team used Semantha to test and improve the Nautilus search engine, working in orchestration with a complex sorting algorithm. Live testing on Expedia.com for the public began last autumn.