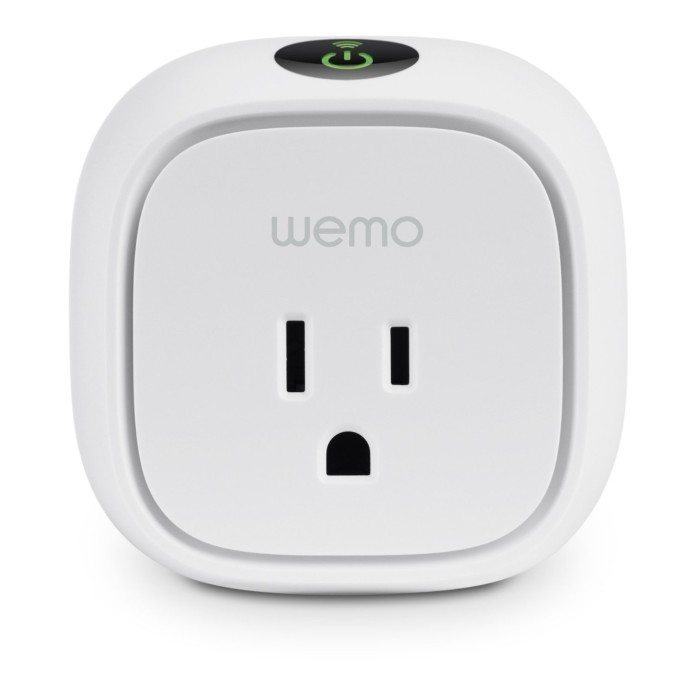 Need to control your electronics from anywhere? Need to import new kind of device in your home automation collection? WeMo Switch is a must have device which ensures low-risk home automation entry point.  If you don't have a light switch that you like to track regularly, so this is a novelty for you plus cool design and funny usage. Want more? Find out all the useful info below, right in this review.
Design & Features


WeMo Switch comes with its basic part called plastic housing which is quite improved with its features.
About half the size of the original WeMo Switch, it looks like a more modern piece of hardware, similar to iPhone USB plug adapter.
It is very small and all of us wish it were even smaller in order not to block off an adjacent plug, but unfortunately the new design doesn't offer any improvement on this point.
The device comes with another quite amazing external adding – Micro-USB port. Actually the port currently has no function, but that eventually it might offer sensors or other accessories to plug into it. Currently, the Switch switches on when you plug it in via USB, and that is what it does.
Generally, the basic function of the WeMo Insight Switch is to remotely power devices on or off via an Android or iOS app. It lets you set rules as to a preset time, by local sunrise and sunset. On this pint the device is just professional and stands out of its competitors.
Installation Technics
All the instructions of installation are described on the box, but when you read it, it could seem quite complicated. Do not hurry to get frustrated, just watch the video and pass through very small steps.
One issue you might come across is that the some wires in the box might not completely match what is mentioned in the video guide.
It can appear that not every electrical box has the typically white neutral wire, which is very crucial for this installation. The best thing to do in this case is to check the electrical box you want to set up before you buy the WeMo Light Switch.
As soon as you install the device, the next step is to set up WeMo on your smartphone or tablet. Download the free WeMo app, after go to your Wi-Fi settings, and WeMo should be listed in the available networks. Then start the WeMo app and following some steps will take you to the short configuration process.
Practical Usage
Easiness is the core idea with this device. Press the switch and power light will illuminate. The on/off button on the WeMo app turns green when the light is on so you can tell the difference between the two settings. This is the basic function of the device, which is quite easy and practical for operation.

With only $60 you get access to a very simple and usable device capable of controlling the energy in your home and become as a home automation starting point. Take a try, nothing to lose for making it happen!