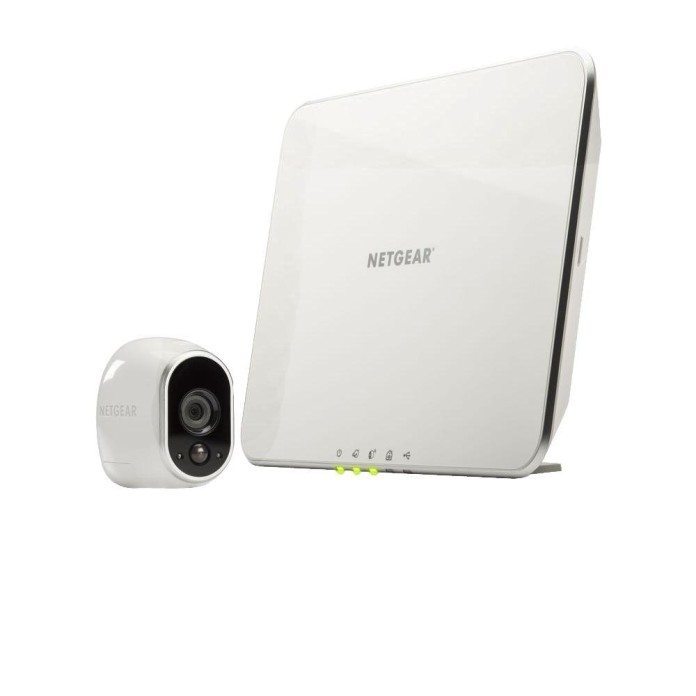 Do you want to have a smart item that can control your home security properly without any lags? Well, security cameras with battery-powered models are not particularly common. That's because you usually have to give up key features like live streaming and HD video quality which are critical to have.
With Netgear Arlo this is now a solution. Powered with 720p-resolution, motion-sensing, night-vision indoor/outdoor Arlo cameras Netgear is the very product for every person who is fond of smart home automation. Need more? Here is the review all about the camera.
Design & Features
The kit comes with two HD cameras, 4 magnetic mounts with included hardware and a hub that connects to the router. The hub and cameras are finished in glossy white plastic.
Netgear insists that Arlo cameras have an operating range of up to 300 feet from the hub and a 4 to 6-month battery life.
The Homeboy camera which is mainly indoor has a rechargeable battery that's supposed to last for 3 months on a single charge.
Netgear Arlo's operating temperature range is about -9 to 50 degree Celsius) which claims Arlo camera to have a lower battery life than it really does.
What is Inside the App?

You can find all the connected cameras on the app's home screen. Unlike some other live-streaming interfaces, Arlo Smart Home has play and pause buttons. This sort of design maybe helps to keep the battery life, but it is slightly inconvenient. Still, you can watch multiple live streams at once or watch one camera on a full-screen view. Within live stream mode, you can record or take a photo on-demand as well as adjust the brightness of the shot.
Want a calendar? There is a library section which displays a calendar. Just select any day and get access to saved clips. Mode section lets you set schedules for the motion sensor. If you want to manage your storage, video quality or any other setting, just access setting and you are there!
Unfortunately, the Netgear Arlo doesn't have an IFTTT, but in spite of this the small cameras can do so much on their own that they're definitely worth consideration.
Verdict
Among all these features we spoke I can conclude the following: If you're looking for a networked security camera that functions well indoors and out, Netgear Arlo is a great option for the price of $199.
Powered with waterproof exterior, great and wireless design, the Arlo can be placed among its competitors and almost anywhere around your home. Even linking multiple cameras can seem quite simple, and they can all be remotely controlled via the Arlo mobile app or Web console.
You can also find some cons which can really disappoint you as they appear during performance.
And even in spite of this, the Arlo is a perfect choice in case you need a security camera working well outdoor and indoor.
Want the camera now? Buy online order and simple get it for your home.