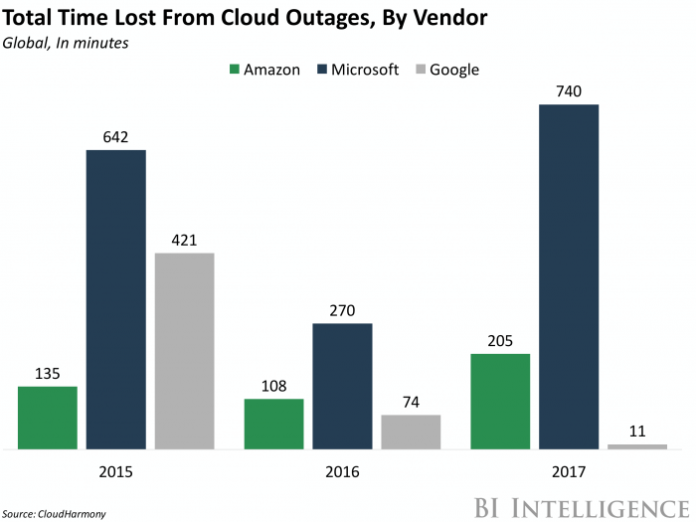 (BII)
This story was delivered to BI Intelligence IoT Briefing subscribers. To learn more and subscribe, please click here.
Amazon is aiming to bring its Echo devices into the mainstream by integrating them with critical aspects of users' daily lives, such as their schedules and the phone calls they make.
But the company has recently had to contend with a threat to this goal: Two recent outages of Amazon Web Services (AWS), the company's cloud that helps power the devices, have rendered many Echoes unable to function — meaning that Alexa was unresponsive when users tried to wake the device, Business Insider reports. These incidents could tarnish the reputation of the Echo product line and present challenges to Amazon's smart home strategy, which relies on the Echo as a first entry point into users' homes.
If both potential and current customers view Echo devices as prone to glitches and unreliable, this could be problematic for Amazon, especially as companies like Google, Samsung, and Apple angle to launch competing devices. But here's why Amazon likely has a perception issue on its hands and not a larger systematic one:
AWS actually goes down less than competing products from Microsoft and Google, according to The Information. While full-year data doesn't yet exist, Microsoft's Azure cloud, for example, has spent 740 minutes offline in 2017 so far. On the other hand, Amazon's AWS has spent only 205 minutes offline so far this year.
The number of Echoes affected by these outages is not large relative to its overall install base. In the more recent outage of AWS servers, Business Insider notes that a few thousand Echoes were taken offline. But at this point Amazon has sold over 8 million Echo devices and counting, according to data from Consumer Intelligence Research Partners. The devices that were knocked offline through these outages are only a fraction of the total number of devices Amazon has sold.
Further, some outages will occur as part of operating a large public cloud like Amazon's. Since Amazon is a leader in providing cloud storage and analytics to enterprises, the company is naturally going to experience some outages for time to time. On the other hand, these two outages were large relative to AWS' past outages, meaning Amazon could move to remedy the issue quickly.
But even a perception issue could pose real challenges to Amazon's strategy. Amazon wants more consumers to own the devices, primarily as another entry point into the Prime ecosystem, but also to collect and analyze data on owners' daily lives. If a negative perception of Echo products remains, growth in the install base of the Echo could slow. This would dent Amazon's larger strategy, which involves it using its Echo products as a gateway into the home, which supplies data and insights into customers' lives.
Not that long ago, many home-appliance and consumer-electronics makers were gearing up for what they thought would soon be a rapidly growing market for smart home devices.
The instant popularity of the Nest thermostat, introduced in 2011, seemed to confirm their hopes. But those expectations were dashed in the coming years as the market for connected home devices later stagnated.
Even with these challenges, many of the biggest consumer technology companies are now moving into the smart home market. For example, Apple, which recently released its self-installed smart home ecosystem, called the Apple Home, traditionally doesn't move into a market until it's very mature and only when it can release a perfected product. Further, Google this fall launched the Google Home and its companion ecosystem, hoping to jump into the voice-activated smart home speaker market, which Amazon currently dominates with its Echo product line.
Nicholas Shields, research associate for BI Intelligence, Business Insider's premium research service, has compiled a detailed report on the self-installed smart home that examines the demographics of the average smart home device owner and discuss why current smart home device owners are appealing to tech companies. The report also examines the plans of various tech giants in the smart home market and discuss their monetization strategies, and makes suggestions for how these companies can position themselves to make their products and devices more appealing to the mass market.
Here are some key takeaways from the report:
Tech companies primarily enter the market to enhance a core revenue stream or service, while device makers desire to collect data to improve their products and prevent costly recalls.
We forecast there will be $4.8 trillion in aggregate IoT investment between 2016 and 2021.
These companies are also seeking to create an early-mover advantage for themselves, where they gain an advantage by this head start on adoption.
Major barriers to mass market adoption that still must overcome include technological fragmentation and persistently high device prices.
In full, the report:
Details the market strategy of prominent tech companies and device makers, and analyzes why which ones are best poised to succeed once adoption ticks up.
Offers insight into current ownership through an exclusive survey from BI Intelligence and analyzes what demographics will drive adoption moving forward.
Explains in detail which companies are poised to succeed in the market in the coming years as adoption increases and mass market consumers begin to purchase smart home devices.
To get your copy of this invaluable guide to the IoT, choose one of these options:
Subscribe to an ALL-ACCESS Membership with BI Intelligence and gain immediate access to this report AND over 100 other expertly researched deep-dive reports, subscriptions to all of our daily newsletters, and much more. >> START A MEMBERSHIP
Purchase the report and download it immediately from our research store. >> BUY THE REPORT
The choice is yours. But however you decide to acquire this report, you've given yourself a powerful advantage in your understanding of smart homes.
More From Business Insider