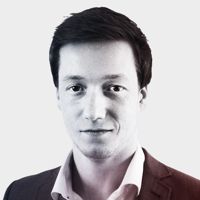 Wired
---
Intuitive control, easy third-party connections
Tired
---
Sometimes Alexa mis-hears and can't answer challenging questions
It took Amazon almost two years to bring its flagship hardware to the United Kingdom. Since the launch of the Amazon Echo, the firm has already followed it with the smaller, hockey puck-sized Echo Dot.
Primarily, both Wi-Fi connected devices act as speakers with embedded artificial intelligence that's intended to make their owners' lives easier. They also operate as bridges to connected home devices and can be used with third-party 'skills' (apps).
The Echo and Echo Dot are similar in all but size, price and speaker power. The Echo (£149.99) is several times taller and has a more powerful speaker than the Dot (£49.99).
As a speaker, the Echo more than holds its own. It doesn't have the same audio capabilities as wireless devices produced by the likes of Sonos and UE, among others, but for a single room speaker, it is able to fill a space with a sound that's enjoyable to listen to. The much smaller Dot's speaker is equivalent to that of a laptop or high-end smartphone, but it has the ability to connect to external speakers (through a 3.5mm jack) to amplify its sound.
We lived with both devices for up to three weeks and tried connecting them to a number of smart home products, using them as part of a daily routine.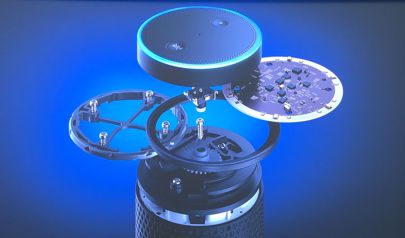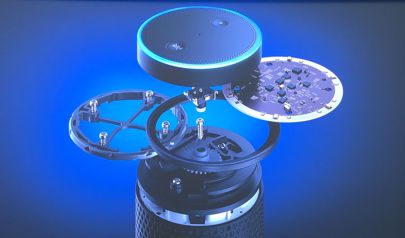 WIRED
Alexa
Inside the Echo is its secret weapon: Alexa. A cloud-based personal assistant that is "always" listening for its wake-up word (unless you press a button on the top of the Echo) with the anticipation of having a question to answer.
Voice assistants are still in their early iterations and Alexa is no different to others on the market. Alexa, Siri, Cortana, Google Assistant and others are not at a mature stage and still have problems. If they are to be compared to the evolution of the mobile phone; we are at the dawn of the iPhone. The proof of concept and first products have been created but they need to be refined before they become ubiquitous.
This development will come as Alexa progresses, absorbs more voice commands and learns to do more. During our test we most commonly used the device for playing music, setting timers and alarms. All, relatively, simplistic tasks. Unfortunately – even though we wanted it to be the case – there wasn't a standout use for the Echo that changed our daily routines.
On occasions, when a mobile phone wasn't in reach, Echo's search functionality was used. The device uses Bing to search the web for answers to questions. Simplistic questions ('How far away is the Moon?' / 'Who is the president of the United States?' / 'What is oxygen?') are answered with a passage of text.
"Sorry I can't find the answer to/didn't understand the question I heard," is an all-too-frequent saying of Alexa. A deeper level of natural language and understanding is needed – this is something Google's Home promises when it launches. Alexa isn't able to answer and understand follow-up questions: 'Who is the president of the United States?' followed by 'How old is he?' and similar requests provide the stock response or a need for clarification.
On some rare occasions, the Echo failed to hear us at all. But overall speaking to the Echo is enjoyable, little work, and it doesn't get annoyed if frustration is vented at it.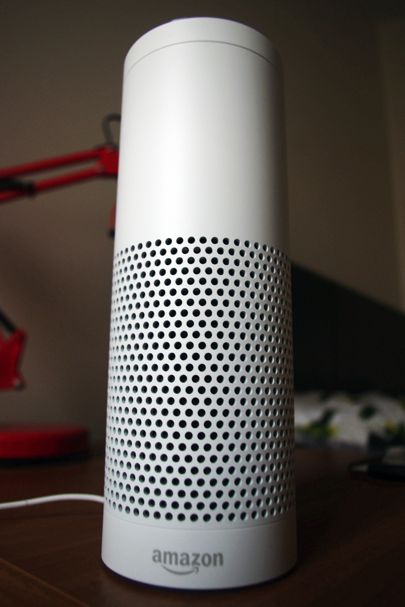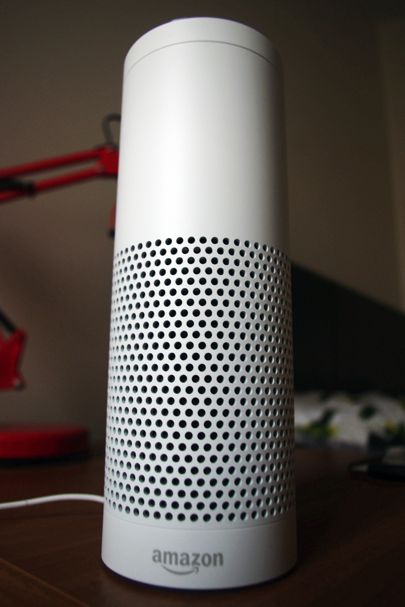 WIRED
Alexa's skills
Echo connects to Skills through the Alexa app for iOS or Android. Newsflashes allow short summaries to be read, a Google Calendar integration reads appointments, Spotify (Premium users only) and other music services play what is asked, alarms and timers set and go off as needed. Of course, Amazon Prime members can also shop using their voices.
Every basic integration we tested with Alexa worked smoothly when the device heard the questioner. If it didn't, repetition was needed. Although, the power of the Echo's seven built-in microphones is shown when we shouted from one room to the next to control the device. If a home has a setup with multiple Echos or Echo Dots the nearest device responds to a request.
When you ask an 'app' to do its job, Alexa will connect to it and invariably complete the task. As the systems underlying Alexa develop, it would be an improvement to integrate more natural interactions with the individual integrations. For example, the useful Tube Status program (that works from open data) gives service udpdates on each of London's lines but only when specifically asked. "Alexa, ask The Tube what the Piccadilly line is like?" is a question that will get the desired answer but "Alexa, what's the Piccadilly line like?" left us lacking. This is a common theme across all skills.
Amazon Echo Dot arrives in the UK: what is it and how does it work?
Amazon Echo Dot arrives in the UK: what is it and how does it work?
---
There are a few big name launch skills available for Alexa including National Rail, The Guardian, Uber, Just Eat and more. However, there's a significant integration missing for Alexa in the UK; web app If This Then That (IFTTT). IFTTT allows services to connect to each other and runs rules depending on actions. Even though IFTTT told WIRED Amazon is working on adding support, this feels like a missed opportunity that could have allowed for greater Alexa and Echo customer personalisation from the outset.
Most of the skills in the Alexa 'store' aren't worth getting. Many are small, niche creations that will be used once or serve no real practical and consistent use. Many are reminiscent of early iPhone apps that were created to get a bulk number of downloads but will probably only be used once. Cat Facts are useful but not vital; Leap year has a limited shelf life.
Amazon claims Alexa can get smarter overnight with firmware updates. This was shown at the start of October when it allowed developers to use its list API to connect it to to-do list apps. This means Amazon's self-contained to-do list within the Alexa app doesn't have to be used.
As the skills space develops, more integrations will be added. Going forward we hope mobile phone notifications and connections to allow messaging are created as well as a deeper level of search results. Being able to use Echo as a speakerphone would also be welcome.
WIRED
Connected home
Listed in Echo's topline features is its ability to create and connect buildings and devices. Smart home skills and products can be connected to the home speaker using the Alexa app, which has integrations for Netatmo, Hue, Nest, SmartThings, Honeywell, Hive, tado, TP-Link Kasa, LIFX, and Yonomi. These external connections open up hundreds of physical devices.
The Internet of Things' fundamental problem is that it isn't sexy. IP cameras, lightbulbs, thermostats, locks, none of these scream the height of consumer technology and desirable products that need to be purchased.
That isn't Echo's problem, though. Amazon isn't making smart home products but is in the business of providing connections to them. The infrastrucute needs to develop in its own right. To get the most use from the Echo in the home requires a person to buy into the Internet of Things market, which there are valid reasons to be hesitant about.
Smart home products can be costly, and the likes of smart thermostats require commitment in order to be installed. Some may not find turning lightbulbs off using a voice command an impressive feat, but it is one of the core and (theoretically) easiest connections to make using the Echo.
The third-party connections provided, though, do allow for a greater range of smart products to be connected to Alexa. Connecting the services to Alexa is straightforward but most often problems lie within the devices themselves.
The 10 best launch partners for Amazon Echo's Alexa
The 10 best launch partners for Amazon Echo's Alexa
---
During testing, we tried to connect three different brands of lightbulbs but the bulbs are not compliant with the standard E14 socket connection used in the UK. Adaptors for bulbs are available, but even the one we purchased failed to get the products working within the home.
Elsewhere, with more success, we connected the Samsung SmartThings hub, which worked simply and connected first time. Its smart power plug meant switches could be controlled by voice, and thus be used to control almost any electric item in the home (providing voice-controlled power to non-smart kettles, lamps and chargers). We also tested Sonos speakers through the Yonomi App (an Alexa-specific connection is coming later this year, Sonos says).
In total, the Echo is a smart home facilitator and can serve as the centre of a widely-connected home but there isn't one killer use that makes it a must buy on a commercial scale. The use within a smart home comes down to that of an individual.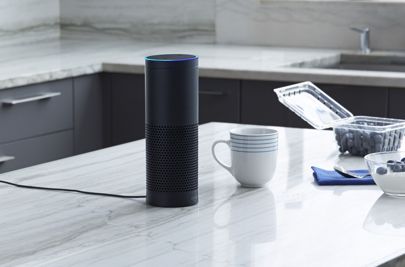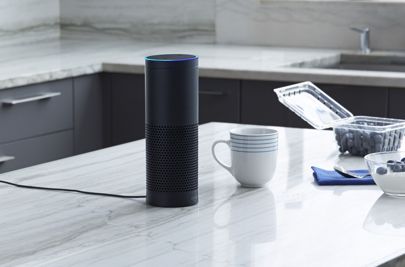 The Amazon Echo is always connected to Wi-Fi, allowing you to connect it to your home network and access cloud services
Amazon
Verdict
After living with the Echo for three weeks and the Echo Dot for almost a week, we are convinced interacting with products using our voice will be how we use them in the future. Hands-free, voice-first, commands are convenient and consumer friendly.
The big question is: should you buy an Amazon Echo? The middle and end parts of the answer vary depending on the level you are willing to buy into smart home systems and whether you want to use your voice to control things around you.
Echo is a solid and well-performing home speaker, which should be suitable for most people's use and it works well with Alexa. It's compact, stylish and unobtrusive in the majority of rooms. There's a range of products from multiple manufacturers that it connects with and doing so is (largely) hassle-free. Although, investment in the products has to come from a deeper desire to live in a connected house (and deeper pockets.)
However, Alexa – like its Siri and Google Assistant counterparts – isn't perfect. Yet. There are random outbursts and mishearings (no, I didn't ask for Drake to be played). For the most part, it answers simple questions well and easily connects to the products where compatibility exists.
Google Assistant is the best AI we've seen. Here's how to use it
Google Assistant is the best AI we've seen. Here's how to use it
---
There's still sometimes the slight feeling of surprise when a command is answered first time. Repetition of questions happens. When what is said does work, it is completely seamless and there are even times when interactions almost feel human. The technology is improving and the Echo recognises more commands and makes less mistakes now than it did at the start.
As for the price of both the Echo and the Dot: they are worth the money. It's likely much worse wireless speakers have been produced for similar prices to the Echo's £149.99 and don't have the AI functionalities. Meanwhile, the capabilities and connectivity of the Dot make it a bargain.
Amazon was first to market with the product which, given its inconsistent past with products, was a gamble. That said, this is one bet that seems to have paid off: the Echo is the benchmark that others must beat.