SAN FRANCISCO – Whether Intel can remain the world's largest semiconductor company in the wake of the PC tsunami is anyone's guess. But there's no doubt the company is trying to move fast on multiple fronts to participate in a richly diverse set of opportunities ahead.
This year's Intel Develop Forum showed the company racing to get traction with a broad set of new platforms in machine vision, the Internet of Things, FPGAs, machine learning and more. None of them will replace the PC, but some collection of them could someday more than fill that gap.
Analysts' opinions were mixed. In a research note entitled, "Battleship is turning," Ross Seymore of Deutsche Bank said he was "impressed by Intel's commitment to move beyond its PC heritage into a wide array of new markets … this transition will become increasingly apparent in 2017 as PC-related revs fall to ~50% of the company's mix.
He and others praised the company for an update on its 10nm node that showed "its ability to keep pace with Moore's law when others have found doing so more difficult."
Semiconductor analyst Mathew Ramsay of Canaccord Genuity added that Intel's willingness to embrace ARM cores in its foundry and FPGA offerings a "refreshing relatively new sense of market pragmatism from CEO Brian Krzanich."
Market watcher Nathan Brookwood of Insight64 was less sanguine noting that the PC was probably was "the most important design win of all time…but it's not clear IoT will be the same horn of plenty…I think ARM is going to be the long term winner in IoT," he added.
The three-day event began with a high octane band playing on virtual instruments using armbands powered by Intel Curie IoT modules, including a virtual keyboard played with gloves using its RealSense depth cameras (below). Among the many new platforms Intel is pursuing, RealSense is a clear star candidate.
Next page: A depth camera with breadth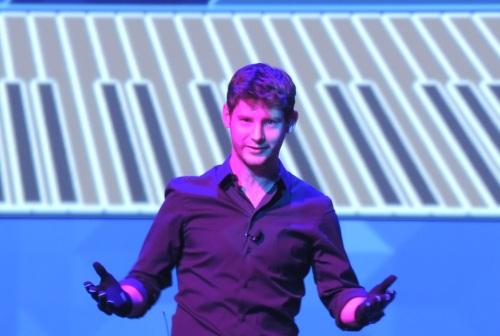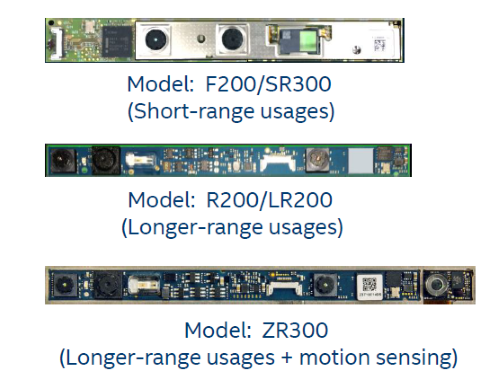 Intel turned its RealSense into an expanding family of depth cameras (above) using a variety of technologies in diverse form factors for an array of markets. Current products measure 256-levels of distance across short and long ranges, some including motion sensors and a fish-eye lens for peripheral tracking.
Euclid, an integrated unit tailored for robotics, adds to the ZR300 RealSense module a quad-core Atom processor as well as Wi-Fi, Bluetooth and a battery. It will ship early next year, one of an increasing number of quick-to market products Intel hopes attracts software developers to create new applications.
Intel also tipped its next-general camera, the R400 (below). It packs a 55-meter range and higher accuracy in a smaller, lower power device that will sample late this year.
Achin Bhowmik, general manager of Intel's perceptual computing group, said Intel has diverse depth camera technologies in its portfolio, but would not detail which products use what approaches. The company is doing a lot of work on recognition software for the modules, much of which it is making open source, said Bhowmik who sits on the board of the OpenCV group.
Next page: Finding a place in virtual reality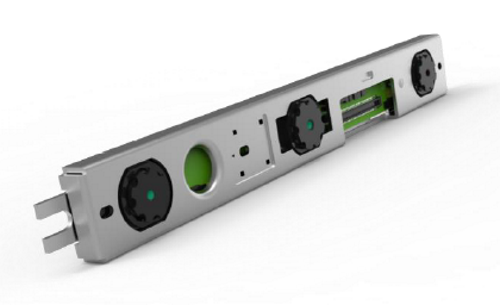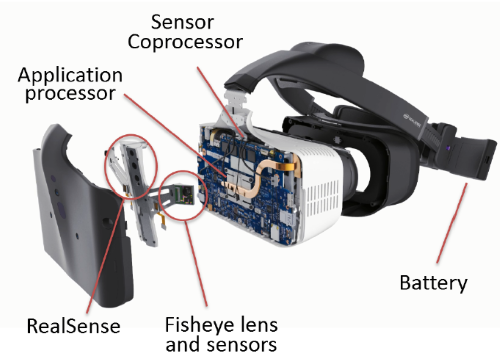 As with most tech events these days, Oculus and Hive VR headsets were widely used, begging the question of what's Intel's play in this space. The company's Project Alloy (above) was the answer.
It includes a sixth-generation Core PC and uses a top-end RealSense module to provide an untethered experience that can put a user's hands in the virtual world. Specs are not yet available for the headset which Intel plans to release as open source hardware late next year.
Microsoft will port its Hololens operating system to Alloy so device built on Intel's design can access its apps which will also be available on Windows 10 PCs next year. The effort could help define new VR market segments and put in place a supply chain for others to go after them, said Jon Peddie, principal of Jon Peddie Research.
Next page: More prototype VR platforms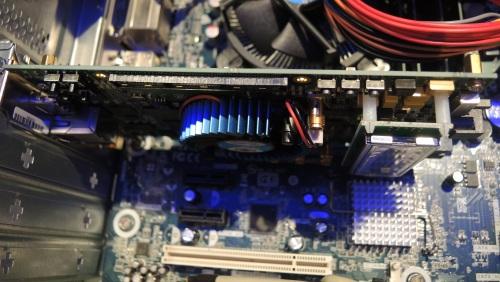 In a separate demo at an Intel FPGA session led by Krzanich, startup Teklium showed another approach to VR. It uses an FPGA card (above) in a client PC to render video and put it out over 802.11n Wi-Fi.
A small box that would clip on to a user's belt will contain an ASIC to receive and decode the signal for any VR headset. The ASIC currently is implemented on an FPGA card (below).
Teklium aims to enable games streaming both off PCs and Web services. It also foresees an opportunity for a library of algorithms tailored to accelerate different games.
Ambitious as the plan sounds, it's just the beginning, says Teklium chief executive Jason Ho. Ultimately he wants to enable an iTunes-like library of any FPGA function that could run on a PC from VR to networking. "That's a lot for a small company so we have to work with a big company like Intel," Ho said.
Next page: A wearable gaming PC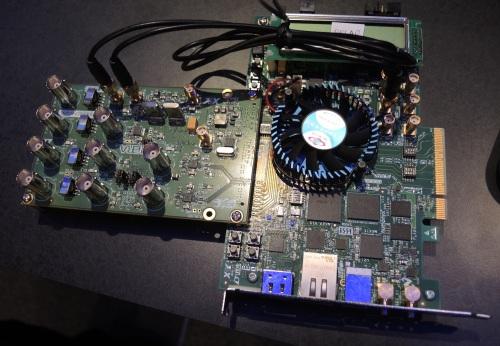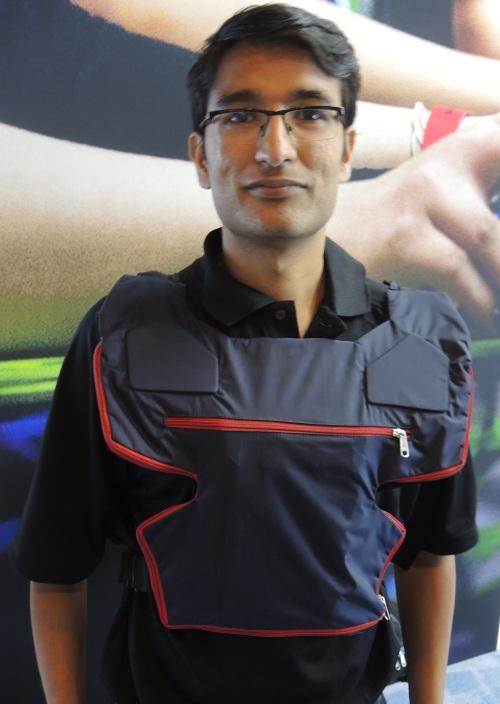 Rohit Choraria, an engineering manager in Intel's client PC group, demoed his proof of concept for a gaming PC in a vest. The 2.3 Kg system includes a 65W Skylake processor with integrated graphics and two fans with airflow to keep operating temperatures down to 25 degrees Celsius. The front of the vest includes a 20W and 100W battery.
Next page: Intel grabs 360-degree technology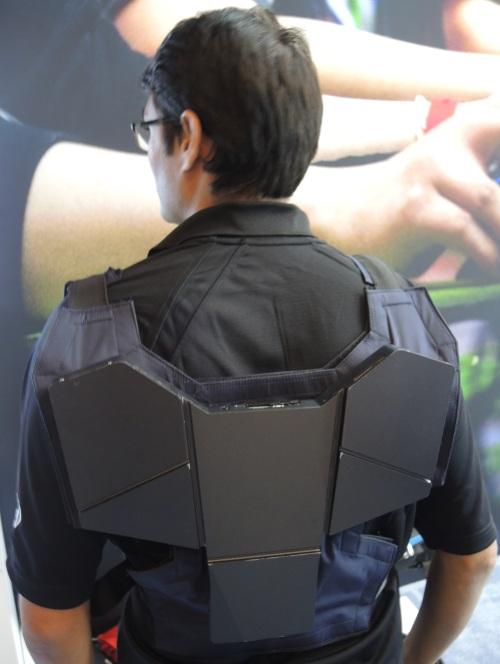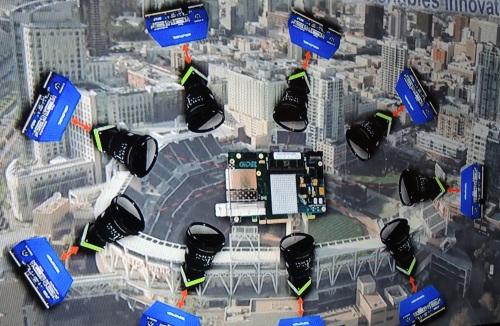 In a related area of computer vision, Intel acquired Israeli company Replay Technologies for an estimated $175 million in March. The startup enables stop-motion 360-degree 3D videos with an image-stitching system now being installed in a number of stadiums worldwide.
In an FPGA expo on the last day of IDF, Israeli board maker Gidel showed its Arria V FPGA modules (below) that acquire the video and pump it out over optical fibers. So far it has landed a modest $1.5 million deal for the systems from Intel.
Intel's Krzanich said the technology could enable users to watch games with a VR headset from any position they choose. The chip maker is setting up a Los Angeles studio to push the technology into new aspects of film production.
Next page: More energy for consumer IoT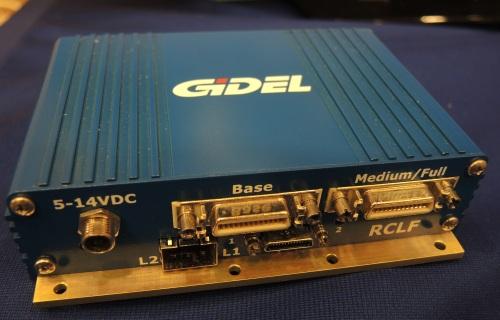 Intel announced its latest consumer IoT module at IDF16. Joule (above) is another effort to quickly enable software developers to bring new concepts to market.
The module contains a 14nm Atom SoC, Wi-Fi, Bluetooth and memory in a thermally shielded, FCC-certified package that comes with its own low-cost I/O board (below).
Next page: Invasion of the robots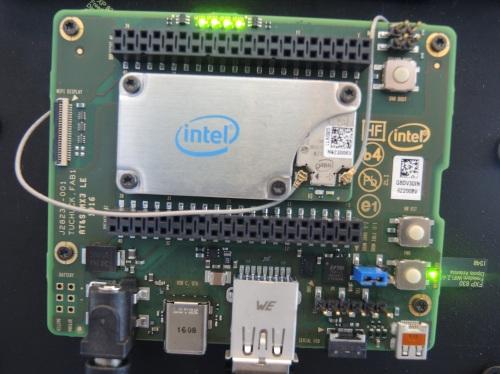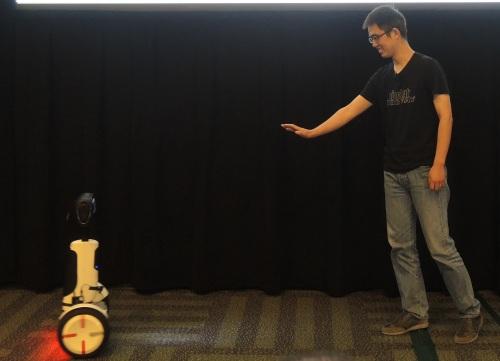 Robots are one of the emerging markets Intel aims to enable with modules like Joule and Euclid. Li Pu of Segway Robotics (above), demoed at IDF a personal bot that could follow gestures. Developer's kits for the bots are due this year with consumer versions in 2017.
The rise of better chips, wireless connectivity, sensors, depth sensors and open source software for computer vision and mapping is fueling the rise in robotics activity, said David Shinsel, a senior architect in a two-year old robotics group in Intel. "It's been a slow build like a pressure cooker, but in the last couple years VC investments are really rising…a lot of people see it as a next-big thing," the long time robotics hobbyist said.
Next page: Robots in the sky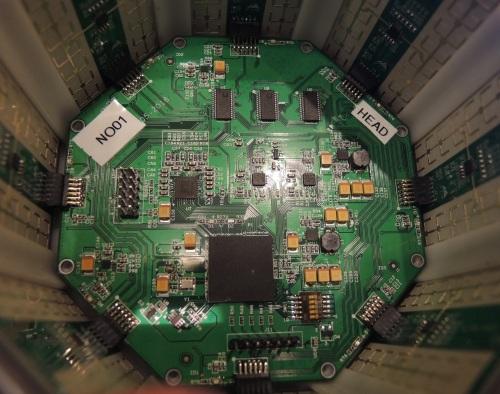 Aerotenna a Lawrence, Kansas, startup formed a year ago came to the FPGA expo at IDF to show its flight management and 360-degree radar modules.
The flight module card, lodged in the base of the radar module (above), uses a Cyclone V with dual ARM Cortex A7 cores. The radar tracks 3-4cm objects at distances up to 100 meters using microwaves so it can work at night or in bad weather. Both units are available next month for about $500 each for vehicles ranging from drones to cars and boats.
In his keynote, Krzanich showed Intel's $399 all-in-one flight management board for drones. Project Aero (below) creates its own maps using RealSense and supports LTE links and solid-state drives. The company will wrap a full drone platform around it starting next year for developers who just want to write code.
Next page: Smart toothbrushes and factories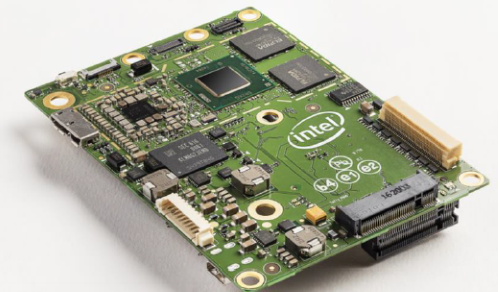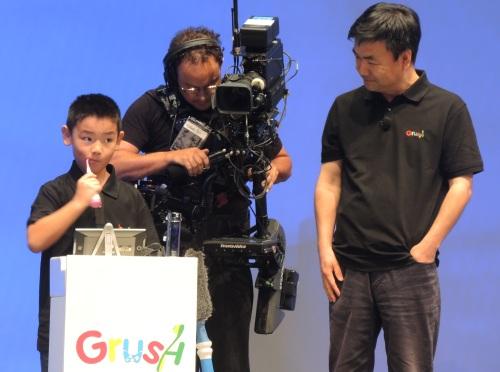 Few kids have ever had so much attention to brushing as this member of Grush, the team that won the million-dollar prize in the first round of America's Greatest Makers, Intel's new reality TV show now casting its second season. Grush turns a smart toothbrush into a game controller
"We can put monsters in different places" to ensure thorough brushing, said a Harvard-trained dentist who is part of the team.
"Just what I needed, more monsters in my mouth," quipped Krzanich in an on-stage demo.
On the serious side, Krzanich spoke in separate sessions with the CEO of GE and the CTO of Schneider Electric about the Industrial IoT. "I ran Intel's factories for 30+ years and watched Intel get automation into the system," Krzanich told FPGA makers in a session that included a demo of automated robotic arms.
"No one wants to run a factory in a manual mode. Any factory has hundreds of sensors whether they are in welders in an assembly line or litho tools in a semiconductor fab," he added.
Next page: The fragmented FPGA frontier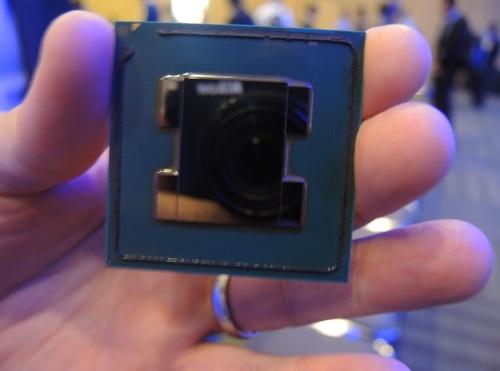 With its new FPGA division, Intel is moving from a very focused PC platform to the industry's most diverse customer base. The group's general manager, Dan McNamara, showed at IDF a prototype of its flagship Stratix 10 chip (above), revealing its use of Intel's embedded multi-die interconnect bridge currently used to put serdes blocks around its edges.
More than a dozen FPGA board and software makers came to a modest expo on Thursday to show their wares. Among the demos from the former Altera was a real-time resolution scaling capability on a screen which went from 1080p to 4K UHD (below).
Next page: Sanguine on the home front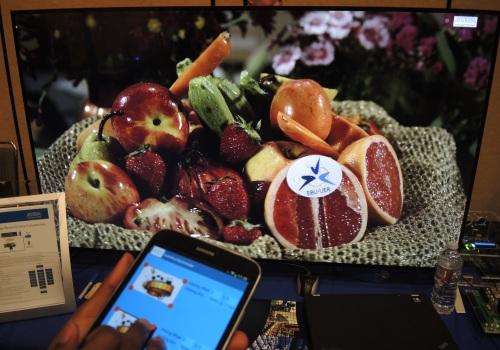 Life isn't all bad in Intel's legacy markets. The company's server chips run 97% of machine learning jobs today in a market where data analytics is expected to become the main application by 2020, said Diane Bryant who runs Intel's data center group.
Bryant pitched Intel's multicore Xeon Phi chips as the key accelerators for machine learning, announcing Knights Mill, a version coming next year with support for flexible floating-point precision. It is a response to the benefits of 16-bit precision Nvidia touted earlier this year with its new Pascal GPUs.
Bryant made the case for training neural nets on Phi and running them on Xeon CPUs, something done both at the U.S. National Energy Research Scientific Computing Center and China's Baidu. "The math for machine learning is not new, it's simple linear algebra," she said.
Slater Victoroff, the young chief executive of AI developer Indico, agreed. He trains general models for text and image analytics that can be quickly fine-tuned, generating hundreds of models for specific tasks. Unlike GPU accelerators, the Intel approach uses less memory and is easier to scale, he said.
Analyst Karl Freund of Moor Insight and Strategy said the technology Intel acquired with startup Nervana will provide an even lower cost approach once it gets its arms around it. That's because Nervana is more tailored for machine learning and uses an interconnect that supports a higher number of accelerators.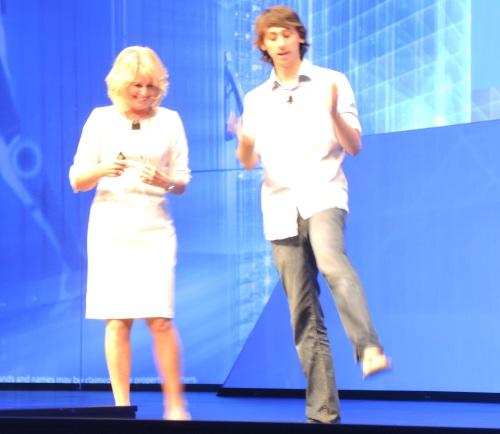 Back on PC home front, things don't look so awful, said Navin Shenoy, general manager of Intel's client computing group.
Two-in-one designs grew 40% last year with 100 designs out from companies including the mobile phone groups at Samsung and Huawei. PCs with unlocked processors for gamers grew 25% and Chromebooks now represent half of all education computers.
VR, 4K and 360-degree video from Facebook and others will drive growth in high-end machines. "PCs are better than ever," Shenoy said, noting they have long acted as centers of innovation. "The PC was probably the first place you used Wi-Fi and LCDs," he said.
A flood of advanced consumer cameras including the $375 Samsung Gear VR 360 will continue to drive high-end content to PCs, he said. Ironically, the off-site event was one of the rare IDF sessions related to the PC.
— Rick Merritt, Silicon Valley Bureau Chief, EE Times

Related posts: