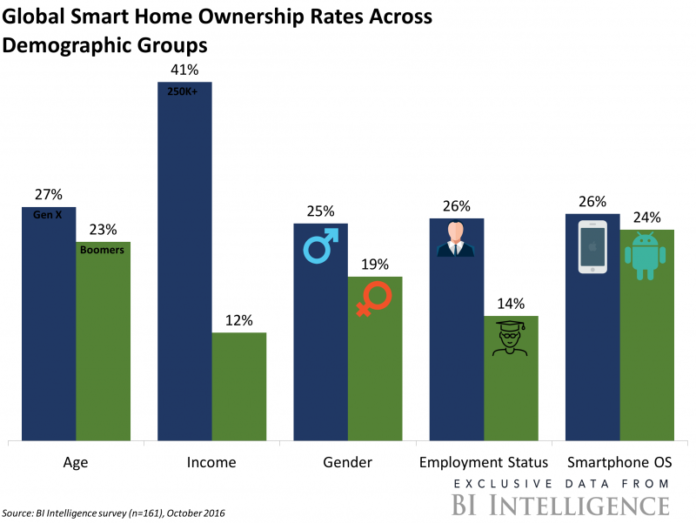 Not that long ago, many home-appliance and consumer-electronics makers were gearing up for what they thought would soon be a rapidly growing market for smart home devices.
The instant popularity of the Nest thermostat, introduced in 2011, seemed to confirm their hopes. But those expectations were dashed in the coming years as the market for connected home devices later stagnated.
Even with these challenges, many of the biggest consumer technology companies are now moving into the smart home market. For example, Apple, which recently released its self-installed smart home ecosystem, called the Apple Home, traditionally doesn't move into a market until it's very mature and only when it can release a perfected product. Further, Google this fall launched the Google Home and its companion ecosystem, hoping to jump into the voice-activated smart home speaker market, which Amazon currently dominates with its Echo product line.
In a new report, BI Intelligence examines the demographics of the average smart home device owner and discuss why current smart home device owners are appealing to tech companies. The report also examines the plans of various tech giants in the smart home market and discuss their monetization strategies, and makes suggestions for how these companies can position themselves to make their products and devices more appealing to the mass market.
Here are some key takeaways from the report:
Tech companies primarily enter the market to enhance a core revenue stream or service, while device makers desire to collect data to improve their products and prevent costly recalls.
We forecast there will be $4.8 trillion in aggregate IoT investment between 2016 and 2021.
These companies are also seeking to create an early-mover advantage for themselves, where they gain an advantage by this head start on adoption.
Major barriers to mass market adoption that still must overcome include technological fragmentation and persistently high device prices.
In full, the report:
Details the market strategy of prominent tech companies and device makers, and analyzes why which ones are best poised to succeed once adoption ticks up.
Offers insight into current ownership through an exclusive survey from BI Intelligence and analyzes what demographics will drive adoption moving forward.
Explains in detail which companies are poised to succeed in the market in the coming years as adoption increases and mass market consumers begin to purchase smart home devices.
To get your copy of this invaluable guide to the IoT, choose one of these options:
Subscribe to an ALL-ACCESS Membership with BI Intelligence and gain immediate access to this report AND over 100 other expertly researched deep-dive reports, subscriptions to all of our daily newsletters, and much more. >> START A MEMBERSHIP
Purchase the report and download it immediately from our research store. >> BUY THE REPORT
The choice is yours. But however you decide to acquire this report, you've given yourself a powerful advantage in your understanding of the IoT.