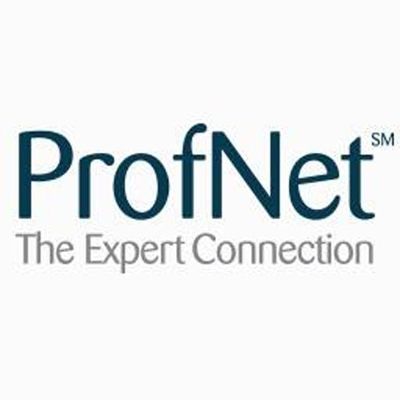 NEW YORK, March 13, 2017 /PRNewswire/ — Below are experts from the ProfNet network who are available to discuss timely issues in your coverage area.
You can also submit a query to the hundreds of thousands of experts in our network – it's easy and free! Just fill out the query form to get started: http://prn.to/queryform
EXPERT ALERTS
The Current State and Future of Smart Homes
Toy Data Breach Puts 2 Million Records at Risk
Minimizing Tax Burdens and Preserving Wealth
MEDIA JOBS
Reporter, Chemical Markets – ICIS Americas
Personal Finance Content Writer – Student Loan Hero
Reporter, Commercial Real Estate – Crain
OTHER NEWS & RESOURCES
The Messy Business of Corrections: Advice on How to Recover from a Mistake
Top Secret: How Journalists Protect Confidential Tips and Document Drops
Blog Profiles: Coffee Blogs
EXPERT ALERTS:
The Current State and Future of Smart Homes
Chris Jones
Vice President of Technology
iRobot
Smart homes are not a far-off futuristic goal, they're the current reality. But that doesn't mean there aren't improvements that can be made to make smart homes even better. Chris Jones is available to discuss Consumer IoT (Internet of Things) and Smart Homes: "Despite the excitement and demand for connected devices, the current state of consumer IoT is a failed promise. With so many devices, sensors and systems acting independently, complexity and usability challenges presented to the consumer make it difficult for them to achieve the integrated smart home experience they desire. These challenges also stand in the way of the industry in general to realizing the full potential of the smart home. There is a gap between what today's smart home is technically capable of and the powerful, yet easy to use, smart home experience the consumer has in mind. The ideal smart home will be able to intelligently and responsively manage and orchestrate itself. This will be made possible through a combination of mobile home robots and supportive cloud services that provide spatial understanding of the home. This is critical information that is required to realize the ultimate goal of a home that knows exactly what to do based on user preferences."
Website: www.irobot.com
Media Contact: James Baussmann, [email protected] or +1 781-430-3664
Toy Data Breach Puts 2 Million Records at Risk
Andrew J. Hacker
Cyber Security Expert in Residence
Harrisburg University of Science and Technology
Spiral Toys, who makes the Internet of Things (IoT) toy CloudPets stuffed animals for children, suffered a massive data breach earlier this year. Says Hacker: "The leak exposes more than 2 million voice recordings of children and parents, as well as 800,000 email accounts of users of the toy. This is a serious concern for the IoT toy industry and parents should be very careful when purchasing toys for children and understand what kind of information is being captured and used by the manufacturer. Generally any device that has Wi-Fi or Bluetooth could have this issue. New technologies that preserve user privacy, such as data-level cybersecurity, are a first step in protecting children against such breaches."
Hacker is the cyber security expert in residence at Harrisburg University of Science and Technology in Pennsylvania. He is the former deputy chief information security officer for the Commonwealth of Pennsylvania, where, for six years, he supported the Enterprise Information Security Office in managing information security, guiding state agency CISOs and executives, interacting with state and federal partners, and protecting citizen data and government systems and operations. He played a major role in creating enterprise security strategies, standards and policies, enhancing overall application security, and was responsible for risk management and compliance across the commonwealth. Prior to his appointment at the commonwealth, Hacker served as global security practice head for a global IT consulting firm where he built a practice organization spanning multiple geographies and fostered a highly skilled and influential security Center of Excellence.
Website: http://www.HarrisburgU.edu
Contact: Steven Infanti, [email protected] or +1-717-901-5146
Minimizing Tax Burdens and Preserving Wealth
Alan S. Kufeld, CPA
Partner
PKF O'Connor Davies
Tax season is in full swing for everyone, including ultra-high-net-worth individuals, multi-generational families, entrepreneurs, athletes, entertainers and executive leaders, each group looking for ways to minimize overall income, gift and estate tax burdens while preserving capital for generations to come. Kufelld is available to discuss the topics of tax minimization strategies, wealth preservation and compliance with Federal, state and local tax regulations.
Website: https://www.pkfod.com/
Media Contact: Shelly Orlacchio, [email protected] or 215-564-3200 x118
MEDIA JOBS:
Following are links to job listings for staff and freelance writers, editors and producers. You can view these and more job listings on our Job Board:https://prnmedia.prnewswire.com/community/jobs/
Reporter, Chemical Markets – ICIS Americas
Personal Finance Content Writer – Student Loan Hero
Reporter, Commercial Real Estate – Crain
OTHER NEWS & RESOURCES:
Following are links to other news and resources we think you might find useful. If you have an item you think other reporters would be interested in and would like us to include in a future alert, please drop us a line at [email protected]
THE MESSY BUSINESS OF CORRECTIONS: ADVICE FOR JOURNALISTS ON HOW TO RECOVER FROM A MISTAKE. Stephen King once said, "To write is human, to edit is divine." King underscores this to aspiring writers in the third foreword to his book, "On Writing: A Memoir of the Craft," where he writes: "All [writers] have sinned and fallen short of editorial perfection." King speaks from decades of experience creating macabre stories. Mistakes happen to even the best of journalists. Here are some lessons from three veterans: http://bit.ly/2mB30WN
TOP SECRET: HOW JOURNALISTS PROTECT CONFIDENTIAL TIPS AND DOCUMENT DROPS. It's a sign of the times: Many news agencies in Washington now are accepting various forms of leaked information. It used to be that anonymous tips would come through a phone call or snail mail. Now, journalists are using apps that encrypt text messages from sources, and many media agencies are promoting secure document drops. Read more: http://bit.ly/2lYcd7a
BLOG PROFILES: COFFEE BLOGS. Each week, PR Newswire's Audience Relations team selects an industry/subject and looks at a handful of sites that do a good job with promoting and contributing to the topic. This week, the team looks at coffee blogs: http://bit.ly/2mDRF7C
PROFNET is an exclusive service of PR Newswire.
To view the original version on PR Newswire, visit:http://www.prnewswire.com/news-releases/profnet-experts-available-on-smart-homes-toy-data-breach-tax-season-more-300422620.html