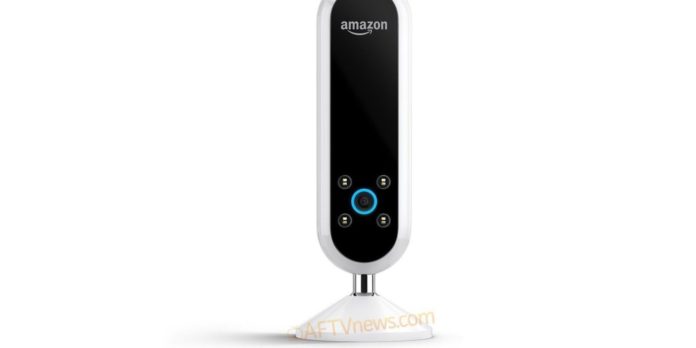 Amazon Spy Amazon is reportedly working on a smart security camera based on an image spied on its own web server. The snap appeared on AFTVnews with a headline indicating that the home security camera may be integrated with Alexa. The device is cleanly designed, with the characteristic white and blue coloring many expect from smart home products. The rounded blue button certainly evokes the Amazon Echo. As GearBrain reported yesterday, smart home devices that aren't part of a solid ecosystem are going to have a tough time holding on to consumer interest. For now, though, there's nothing more on when the security camera could be released—or if.
AWS Out On the coding side, the reason for the outage of Amazon Web Services this week? A coding error, where "…one of the inputs to the command was entered incorrectly and a larger set of servers was removed than intended," says Amazon in its explanation posted online. GearBrain was just one of myriad companies and sites affected by the outage. Amazon itself was affected, unable to update its own dashboard. But good news: The company plans to fix the mistake, or at least "…prevent an incorrect input from triggering a similar event in the future," it says.
Uber Reverse Uber is ending its stand-off with California, and applying for that $150 self-driving car permit with the state. Uber, of course, sent its self-driving cars to Arizona after California told them last year to apply for the permit or get its cars off the road. So Uber did just that: took its toys home (or, well, to Arizona.) Now the company is clearly making plans to bring its test cars back to the Golden State. (Via The Mercury News)
Wearables Grow The wearables market is growing—up nearly 17 percent at the end of 2016 from the year prior. A new report from IDC says that wearables are actually evolving, growing from basic fitness devices to products that can relay health data to a medical professional in real-time. Clothing too has shifted into the wearable market, with nearly 1 percent of sensor-embedded clothes counting as a wearable last year.
Hearable Wearable IDC also gave a nod to hearables as a growing faction in the wearables market. GearBrain spoke with Steven LeBoeuf the co-founder and President of Valencell about how hearables are shaping not just the fitness market—but gaming as well.