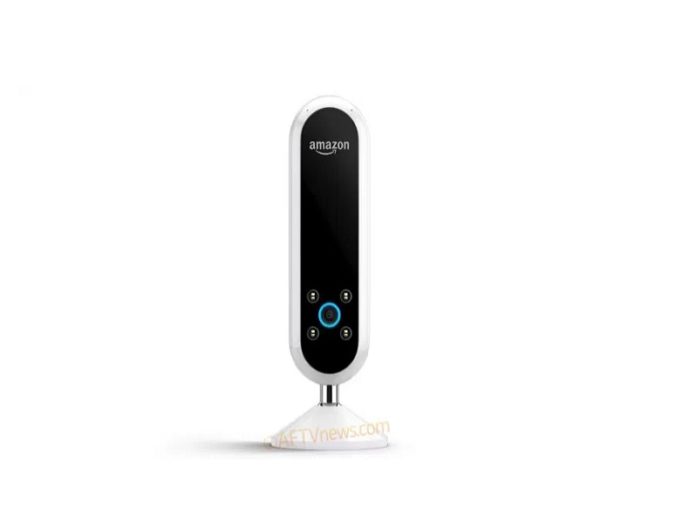 Amazon's virtual voice assistant Alexa has already become everyone's favourite. The AI assistant, which comes along with Amazon Echo and Echo Dot, has dominated sales in 2016 and emerged a winner by becoming one of the top sold products on the retailer's site
Now, to take Alexa further, it seems that Amazon is working with the AI to make sure that your homes are safe. An image first discovered by publication AFTVnews, shows a security camera branded with the Amazon name reportedly "sitting on Amazon.com."
What Do The Leaked Images Reveal?
The images of the supposed Amazon smartcam reveal that its design is quite unusual, compared to other security cameras that are currently available in the market.
The small self-supporting Alexa camera bears quite a bit of similarity with products like Nest Cam or Canary Flex. The camera pod is an elongated one with an LED lens, which is surrounded by a light blue ring. The pod sits on a base which may allow the camera to spin around to cover all spaces. One can also see four infrared sensors on four sides of the lens, to accommodate viewing in low light conditions.
The blue ring, identical to that on top of Amazon Echo, suggests that the camera may also work as an Echo or Echo Dot. The presence of the blue ring has also sparked rumors suggesting that the Alexa camera could be a voice activated one. The rumor is supported by the fact that there are two minute holes on the top of the camera pod, which could be in-built microphones that can take voice commands from the owner.
If the rumors are to be believed, then Amazon is creating a device of its own to directly compete with Nest Cam. There hasn't been any confirmation from Amazon on the same.
Alexa-Supported Amazon Echo AI Takes Tech Space By Storm
Amazon Echo's uniqueness lies in Alexa, the virtual assistant that comes with the speaker. Alexa has been so successful in the AI market that at 2017 Consumer Electronics Show (CES) other companies like LG, General Electric and Ford publicized that they will now develop and release products of their own that will support Amazon's AI.
However challenges may come in the way of Alexa in the form of Cortana, Microsoft's virtual assistant and the Google Assistant. Given that the AI market is witnessing a growth, rumors are rife that Apple is trying to lock horns with Amazon by extending Siri support to all its hardware apart from iPhones, iPads and iPods.
Amazon Echo, Echo Dot and Echo Tap are currently available on Amazon.com at $179.99, $129.00 and $49.99 respectively.
© 2017 Tech Times, All rights reserved. Do not reproduce without permission.